The Concept of Recycling Becomes Trash
Solving the mystery of whether the recycling is emptied into the trash or not.
A common misconception at Atlantic Community School District is that the recycling bins are emptied into the trash. High school custodian Rich Smith said the recycling bins are "most generally not" emptied into the trash cans. "The only time it does [is] if they mix trash with the recycling, then we throw them away because it's contaminated," he said. That still leaves students wondering why the rumor of dumping recycling into the trash became common knowledge of the school.
Smith said the reason people think this still is because most of the recycling is trash, therefore it has to be put into the trash because it's contaminated. He said, "I know they're throwing trash in there, I'm one of them too, I'm not going to sit here and pick all the trash out just to recycle." One suggestion Smith has to encourage recycling efforts in the school is to "quit throwing the trash in [the recycling] so we can recycle," and to get "some different bins, maybe?" He said the Cass County Landfill doesn't do as much recycling anymore and that could be due to labor shortages. "Not enough people want to work out there to hand sort things," he said.
James Stokley at the Cass County Landfill confirmed that recycling that has been contaminated is considered trash. "We sell the product to mills and they make different things out of it and if it has some sort of contamination, they don't want it," he said. The landfill has someone come out twice a week to sorts through the waste, but he said it's easy to tell if something is contaminated or not. Stokley suggested adding more sites for recycling in the community could boost recycling. He also said that the landfill has offered Atlantic and surrounding schools supplies to encourage recycling. "That's probably been close to 15 years ago when we made the offer and nobody seemed to be interested in it," Stokley said.
Science teacher Kathy Hobson is avid about the importance of recycling, with the signature of her emails saying "Think Green! Do not print this email communication unless absolutely necessary." She said re-educating people on the importance of recycling is vital to reinstating recycling efforts. "A portion of our society right now has a no-care attitude and unfortunately that portion can make all of us look bad," she said. Hobson thinks we need to have clearly labeled recycling bins as well, to ensure people are sorting their waste into the appropriate bins. Another suggestion she had is to bring back old traditions. "One day a week, during class, students would go to every room, empty the recycle box and take the paper outside to the big bin. This took the burden off the custodians," she said. Hobson proposed that a group of students could do this during AO and she would be willing to help out with that. She said, "I would sure help." 
"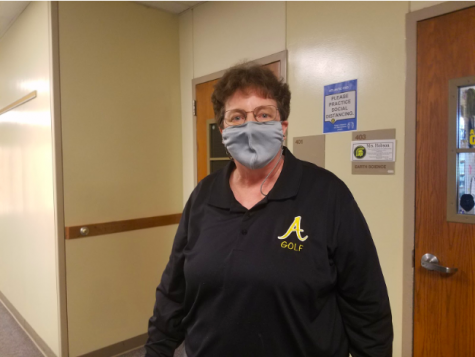 A portion of our society right now has a no-care attitude and unfortunately that portion can make all of us look bad.
— Kathy Hobson
All sources agree that putting just a little more effort into recycling can change the world as we know it. Their message to the students is to do their part and make sure they throw garbage in the correct place.