It's "A-O"-kay to Want More Academic Opportunities
Students weigh in on the possibilities of different AO's.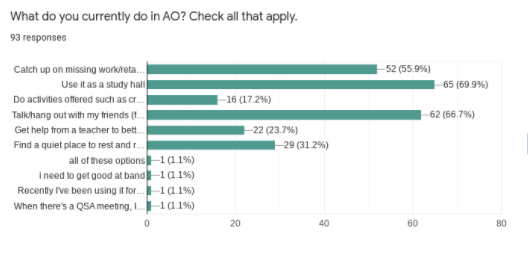 An AO, which stands for Academic Opportunity, is our school's way of creating more ways to reach students' interests and needs. They are used to make-up homework or tests, gain a further understanding of a specific material, or take part in various activities and clubs that a student may enjoy. AO's take place between the second and third periods and can be signed up for by the students throughout the week. While there are many currently existing AO's that explore different hobbies such as crossword puzzles, creative writing, and Zumba, some students would like to see other AO's being added to the scene.
A survey went out to all students at AHS to which 93 students answered. Nearly 70 percent reported that they use AO's as study halls or to talk with their friends while 50 percent use them to catch up on missing work. Less than 30 percent of students use AO times to get extra help from teachers to better understand the subject matter and only 17 percent are excited to use activity AO's such as the Writing Club or the GSA.
The survey also let the students check a list of all AO clubs that they would like to see added to the school. The highest contenders were; photography, learning how to apply for scholarships, learning ASL, tax filing guide, self-defense, boxing, learning how to write essays for college applications, and sketchbook AO's.
One person who would definitely like an AO incorporating drawing or sketching is freshman Audrianna Bayona. "Maybe a painting AO for the school, we could paint some walls and add designs." She said many teachers could sponsor that, but the new art teacher Elizabeth Herrick would be most likely to create it with the return of art for the second semester. Bayona said, "Some people like the idea of making our school brighter and more like home." She said it's a "good idea" that will "make students happy."
Sophomore Dawsen Sorensen has strong opinions about forced AO's. In the questionnaire sent out to students, Sorensen said we should get rid of the forced AO's that include counseling, pointing out that meditation takes time away from his much-needed studying time. He said he wishes there were more useful options for AO's. "[I want] AO's talking about how to manage yourself after the school's done. How to do taxes, buy a house, stuff like that." Sorensen said business teacher Rhonda Hawkins would be the perfect sponsor for that AO. He thinks it would be a "good decision" to add a finance AO. "After high school, being able to know how to buy a house, that would be helping most students," he said. Sorensen said this would "absolutely " make AO's more fun for him.
Kaiden Hatley is a sophomore who thinks physical and mental health should be a priority when it comes to Academic Opportunities in the school. She said, "Maybe a workout program because I like to make myself stronger. Maybe a little therapy session." Hatley thinks a coach or P.E. teacher would be the best person to sponsor an exercise AO, and maybe Spanish teacher Trisha Niceswanger could lead a therapy AO. "The therapy one could be Mrs. Niceswanger or any teacher that's known for being there for their students." She said the school should consider these options because "your physical and mental health are very important, especially at school when you're just sitting around all day." Hatley said adding these academic opportunities would make signing up for them more fun for her. 
In order for any of these ideas to take place, a teacher must be willing to lead one. Depending on the teacher, if enough students ask them to create an AO, they might feel obligated to try one out.