The Elemental Mr. Todd
Chemistry teacher James Todd brings intensity and intellect to his teaching.
You'll recognize him in the hall: he's wearing a crewneck sweater and his school ID is strapped to his upper arm. He's standing outside the science lab, drinking hot tea from a green thermos. You may have heard him say "Bless your heart" to his students.
James Todd came through the doors of Atlantic High School as the new chemistry and physics teacher last August in pursuit of accomplishing his goal of empowering youth. His "intelligence, strong vocabulary, and engagement in conversation" set him apart from the other candidates for the position according to principal Heather McKay.
Moving from Oregon to Iowa, Todd studied chemistry and education in college. "In high school I was very interested in chemistry, which seemed to make a lot of sense to me, the blending of math and theory," said Todd. 
URGENT TEACHING
Todd teaches with a sense of urgency to inspire his students. "I don't put on a show. I just try to be myself and I try to understand how I can best help [students] academically or socially," Todd said.
Senior Ava Brucker said, "He has made me want to work harder and focus more on my work. He has helped me find something I enjoy learning about."
McKay's goal in hiring a chemistry teacher was to find someone who could deliver the content in a way that all students could understand. "In one of the classes I [observed] earlier, the students worked together to come up with the answers and really did that critical thinking," McKay said. 
"He makes you think for yourself and actually think throughout the problem," said junior Jarrett Armstrong. "It helps you not only with chemistry but throughout life with problem-solving skills."
"
I love the class. His sense of humor brightens up the classroom and makes it more enjoyable.
— Ava Bruckner, senior
Teachers experience both rewarding and heartbreaking moments. Todd remembers with a chuckle the time a mom told him that her son wanted to become "a mini mister Todd." The episode made him feel like he could more deeply fulfill his purpose.
Todd said a challenge in teaching is when his efforts make little difference. "When I was at Clarinda Academy, which is a behavioral school, there was a point when I realized that there was little to no chance that things would improve in the conditions that we had. Ultimately that is why I left," Todd said. 
The level of respect he gets from his fellow students and teachers is Todd's favorite part about Atlantic High School.
"I love the class. His sense of humor brightens up the classroom and makes it more enjoyable," said Bruckner. Todd's approach to the class engages his students in a "fun and entertaining" way. 
Several students mentioned admiring his intelligence and care. "He cares more about teaching kids to help them throughout life instead of having free time," Armstrong said.
Tina Franken, a paraeducator in both Conceptual Chemistry classes, describes Todd's teaching method as "orderly." "He likes to be shown respect and encourages the students to hold each other accountable."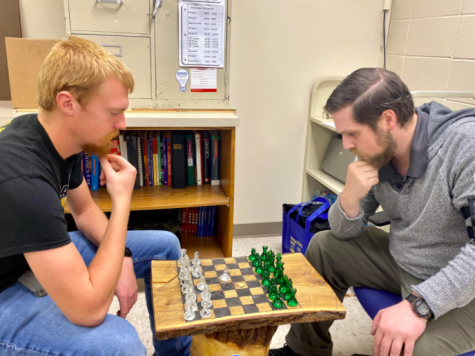 INTELLECTUAL ROOTS
From a young age, Todd was encouraged to become "some sort of intellectual" although he hesitates to use the term because it does not make him sound "humble." He was involved in a youth policy advisory council to the city and county commissioners in Oregon. He was a member his first year and one of the two leaders the following year, directing the flow of thousands of dollars. 
Todd's free time is spent in pursuit of self-improvement through fishing, hiking, swimming, paintball, reading, and nourishing his hobby of playing chess. "One of my fondest memories of college was when I was in an easy class and I was able to play 250 games of chess every month," Todd said. He has been strategically moving pawns on a chessboard since he was seven and his father taught him how to play. 
Todd is not only passionate about his teaching, but also about history and art. He believes society should have a greater appreciation for these. A typical weekend for the chemistry teacher would be accompanied by classical music, a hike, graduate work and a visit to friends in the area. "I have a bachelor's degree and wish to get my master's degree in teaching," said Todd.
"
You must take yourself and everything you do in life with utmost seriousness.
— James Todd
IN TOUCH WITH NATURE
During one of his hikes, Todd visited a peak in Oregon. Close your eyes and try to imagine. To your left is the main beach, to your right is a smaller beach, in front of you is the ocean and behind you the swept trees. Hear the roar of the ocean, smell the salt in the air. This is a place on the Oregon coast at cannon beach: "I have never been more at peace than when I have been at this place," said the teacher.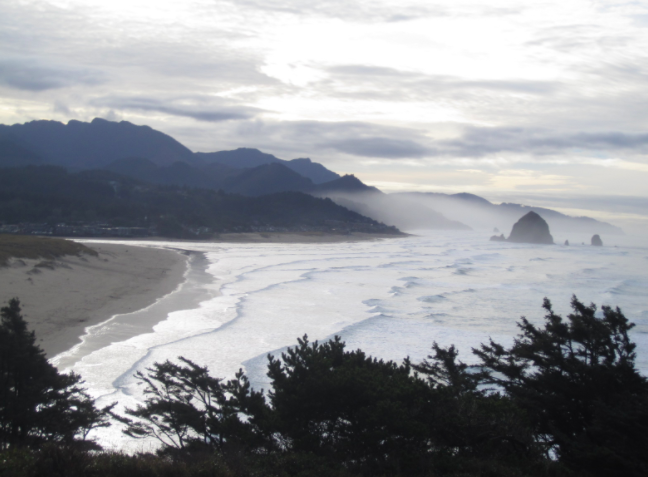 "You must take yourself and everything you do in life with utmost seriousness," concludes Todd.
In the few months that he has taught at AHS, he has most definitely had an impact on the school community. He has taught his students something that goes beyond chemistry or physics: something that will serve them for life.