Listen Up Freshman, Here's Some Advice
A guide to exploring the world of growing up and making memories.
Attending a new school can be intimidating for anyone, especially for students transitioning from middle school to high school. Maturity levels grow exponentially as these students explore different sports and groups while wondering what they are going to do after they graduate. Sometimes they need people in their life, around their own age, to give them relatable advice that can calm their nerves.
A survey was sent out to all juniors and seniors at AHS, where the students were able to measure their growth from their freshman to current years of high school. One hundred percent of all students that responded to the survey said they had a major friend group change since freshman year. Almost 80 percent of respondents said they've matured mentally and have gone out for more activities throughout the years. Some students have figured out what they want to do once they graduate while others recognize that it's okay if they don't know what they want to do yet. Confidence has grown exponentially among the students and some even found themselves more organized than they were just a few years ago.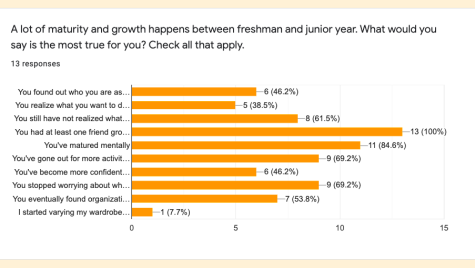 Changes in one's own personal style may come along with growing confidence. Some students reported that they have been experimenting with their clothing choices and physical appearances, altering them to fit the young adult they are becoming. According to research, changes in a person's fashion and habits are normal as they grow up and discover who they are. They tend to wear clothes and make other changes to their appearance that more accurately reflect themselves. Nearly 50 percent of the surveyed upperclassmen said they have found out who they are as people since the time they were freshmen.
Here is a compiled list of the advice and tips the upperclassmen are giving the freshmen.
Not everyone is going to like you, and that's okay. Focus on yourself. 

The friends you have now won't be there forever. Explore new friend groups.

Stay organized and manage your time well, it's worth it!

Take your time on homework, but do it first before you hang out with friends. Don't procrastinate!

Try out for sports and activities as soon as you can! Experiment with your interests. 

If you need help, ask your teacher! Don't be afraid to ask questions.

Don't stress yourself out with homework. Use time management skills and don't wear yourself out! 

Don't compare yourself to others. Be proud of your own achievements.

Your health is more important than your grades, whether it's mental or physical.

 Don't grow up too fast and live life to the fullest.