Atlantic Senior Injured in Accident
Senior hospitalized for three days.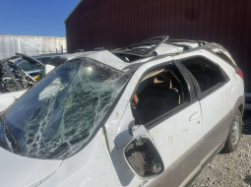 Senior Brycen Erickson was hospitalized after a single-vehicle rollover accident. According to Atlantic News Telegraph, the accident occurred Sunday, Sept. 5, around 4 a.m. Erickson was driving a white Buick Rendezvous north on Nishna Road when the vehicle left the roadway for an unknown reason. Four individuals were in the vehicle at the time of the accident. 
According to Erickson, two were taken to Cass County Memorial Hospital by ambulance, and a third passenger was later given medical attention. Erickson suffered bruising on both left and right sides of the body, road rash, and a collapsed lung on the right side. He was in the hospital for three and a half days with a chest tube before going home with minor discomfort and pain medication. 
Erickson is recovering from his injuries and returned to school and work on Friday, Sept. 10, 2021.