School Sizes Impact Students
The size of the school a student attends can affect their academic and athletic performance.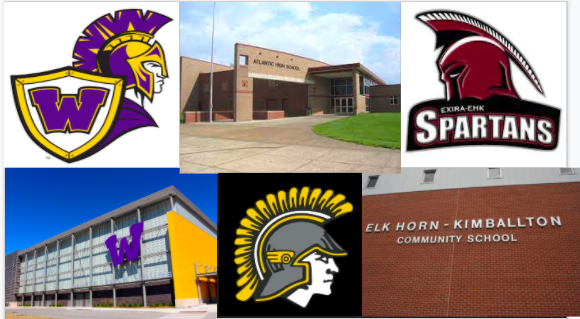 Schools across the United States vary in size, depending on where the school district is located in the country. In total there are about 89,000 public schools in the United States that have over 1,000 students attending. While the average number of students in public schools is about 526, the smallest schools can have as few as 79 students.  According to the demographic site Niche, only 40 high schools in Iowa have over 1,000 students enrolled. 
Out of 474 students surveyed from small, medium and large schools in Iowa, 101 said they would rather be in a school with fewer than 400 students, while 158 students preferred schools with over 1,000 kids. Forty-five percent said they would rather attend a mid-sized sized school (400-999). 
"
I like going to a big school for sports mostly because of the competition on my team
Waukee High School in Iowa is one of the biggest schools in the state attendance-wise. Warriors, as they are known, had 2,081 students in grades 10-12 as of 2019, but the school is growing in attendance rapidly. Freshman Katie Rush is new to the high school and prefers to attend a larger school such as Waukee. Rush said, "I like going to a big school for sports mostly because of the competition on my team." Rush's main sport is basketball, and her team had over 85 players. A survey sent out to the Warriors suggests many of them enjoy going to a big school. Of the students surveyed, 35 percent said they prefer a "bigger" school with over 1,000 students. An anonymous student said, "I think with a larger school there are more opportunities with clubs and it's easier to find people who have similar interests and hobbies." 
Fifty-one percent of Waukee students said they prefer a "medium" sized school. The final 14 percent said they prefer a "smaller" school, or fewer than 400 students. 
Warriors identified the pros and cons of attending a large school. Along with "more opportunities," some students said there was a lack of one-on-one time with the teacher.  Another Waukee student said, "More students means more crowded hallways, and crowded hallways makes it hard to navigate the school. Also, bigger classes means that teachers can individually interact with students less."
On the other end of the spectrum, Exira-EHK High School in Iowa has only 217 students 9-12. Each grade on average has 54 students, and about 15 in each classroom at once. Sophomore Aiden Potts said he "loves" going to a smaller school because he knows everyone personally. Potts said, "I'm really close with about 25-27 people, and we all play sports together year-round."  He prefers a school like Exira because he's been going there his whole life and doesn't think he would be as happy at a larger school.
  None of the students surveyed at Exira-EHK said they preferred a "bigger" school. Of the 29 students who responded, 23 preferred a smaller school, and 6 preferred a medium-sized school. Exira-EHK students said advantages of going to a small school were "getting to meet more people, and get more or even sometimes better opportunities" 
"Teachers are more personal and closer to students, and everyone knows each other," said another Exira-EHK student. Anonymous students had disadvantages to speak on as well. "Less opportunities for sports, and not as good coaching" and "Almost everyone knows each other, so that doesn't help with rumors spreading." 
Thirty-eight Atlantic High School students also completed the survey. With 431 students 9-12, AHS falls in the medium-sized range. Nine students (23 percent) said they'd prefer a large school, noting bigger sports teams, a bigger band, more class selection, and "more unique people."
Thirty-nine percent are happy with their current sized school, with 38 percent preferring a small school. Junior Zane Berg said small schools teach a person how to get along with people you don't like. "Honestly, [schools] should be smaller. 20-50 people per grade." 
Other students were concerned about not knowing everyone in large schools and getting help with assignments. 
AHS students who were happy with their mid-size school identified the opportunities it brings. Sophomore Angelica Anderson said, "I see people I can help smile in the morning, teachers I can cheer up on Monday, and many opportunities to make friends." An anonymous student also said, "A school that's too big could feel far too crowded or overwhelming. Plus with more kids, there's always the chance that there's more problems with bullying and harassment too."
The responses from the three schools show the students who go to bigger schools often want the option to have more one-on-one time with their teachers. Students in all school sizes don't want to get "lost in the numbers." However, students from a smaller district may feel the student is "empty and shallow." Each school size has its pros and cons and impacts the students differently.