A Big Catch
Students at AHS compete in club fishing tournaments.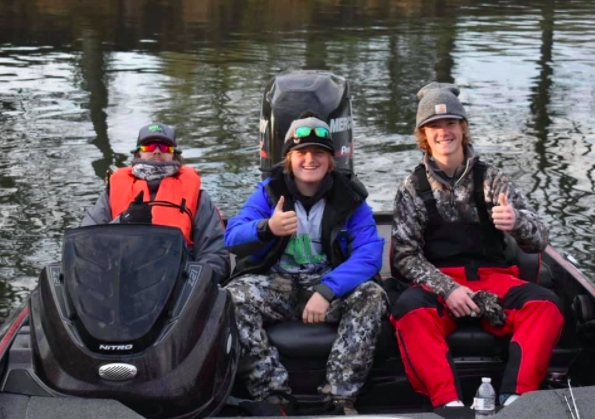 Iowa is known for its beautiful outdoors and lakes. The Southwest Iowa Fishing Team allows students to get out and truly experience the lakes firsthand. The nonprofit organization invites students, middle school and high school, to compete in fishing tournaments. The organization is run through The Bass Federation (TBF). 
Bob Harris wanted to start a team with his grandkids earlier this year, so he took action. He posted on many social media platforms, including Facebook, and contacted the radio station to get the invitation out. Eventually, the club was formed.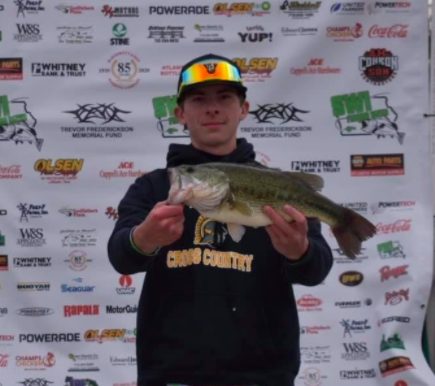 The team has competed in two tournaments so far, and they are off to a great start. In each tournament, the DNR goes over the Iowa Fishing laws, they are divided into teams. Each team is given a boat captain and is put into the water around 7 a.m. They fish for around seven and a half hours, with the only guidance being from the boat captain, who isn't allowed to handle a fishing pole. During this time, they aim to catch five bass. Around 3:00 pm, they weigh in their fish and hand out awards for the biggest bass caught. 
Junior Cooper Jipsen is a member of the club. At the last tournament, he received the Big Bass Award for catching a bass weighing 4.38 pounds. His team, which consisted of himself and sophomore Dylan Comes, won third place in the last two tournaments. Jipsen was even put on the cover of KSOM for his award. 
His partner, Comes, uses the club as an opportunity to "be serious while having fun with it." The organization has helped him with understanding more about fishing. He hopes to use what he learns from this program in his future to extend his family's fishing experience. 
The fishing program "opens a lot of doors that you don't realize are there," Jipsen said. The program gives students a chance to earn scholarships and fish for college teams. Throughout the season, students earn points for the first three events. If a team leads in points, they get the opportunity to travel to South Carolina for nationals, which gives them scholarship opportunities.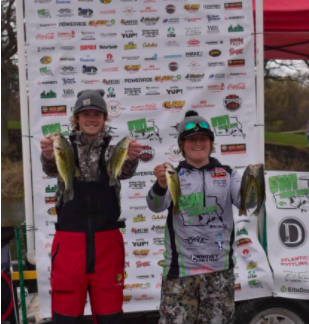 Seniors Braden Smith and Drey Newell are a team for Atlantic High School. In the last two tournaments, although competition has been tough, they placed second in each tournament. They are currently leading in points, and hope to make it to nationals. 
Currently, Harris is working to develop a corporate sponsorship to fund the group. He hopes to develop a kayak series, which will allow students to have their own kayaks. The group of students involved hold a lot of passion and talent for the team and he hopes to one day give back to them to reward their hard work.
The team currently has over 30 members, but they hope that new talent will join. The club requires a $50 membership, which allows you to get into all of the tournaments. To keep others up-to-date with the latest fishing news, the club has a Twitter account.