Dancing the Days Away
While AHS has a competitive dance team, many students participate in dance classes outside of school.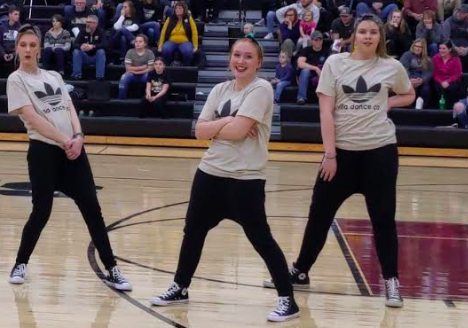 With all the activities students participate in that are associated with the school, it's easy to forget about the ones they are involved with outside of the school. An example of an outside-of-school activity is dance. Atlantic, home of two dance studios, has become a great place for prodigy dancers, as they are offered an unique experience of uncommon styles of dance, potential job opportunities, competition, and a lifelong dance family.
Freshman Gracie Flinn joined Atlantic's Villa Dance Company at age three and has continued with it ever since. As of now, she participates in tap, jazz, ballet, hip hop, tumbling, clogging, and pointe, with her favorite being jazz–as it lets one "express yourself." Clogging, obviously a more obsolete dance, is a new addition to Villa Dance, but one that is much loved by it's dancers. Flinn plans to continue clogging, as well as her other classes, through the entirety of her high school career.
Learning everything from leadership and communication skills to passion and a way to boost one's confidence, Flinn has enjoyed her time at Villa Dance for a number of reasons. However, this doesn't mean dancers don't face struggles. Oftentimes, people don't think of dance as a pain-producing sport, but any pointe dancer would surely disagree. Dancing on the tips of one's toes for hours doesn't only hurt a dancer's feet, but their shins as well. Beyond dealing with the physical pain, Flinn also has deal with the lack of free time she has as a result of her "crazy schedule."
Beyond the classes she dances in, Flinn also works as an assistant for the lower level classes. Because of this, she finds herself at the studio Monday through Wednesday every week, sometimes up to four hours a night. As a helper, Flinn is in charge of helping kids in tumbling class, handing out stickers, and keeping the younger kids in line. "I make sure kids don't get hurt," Flinn said. Beyond this, she also steams and hangs costumes and moves mats around.
Following graduation, Flinn will have to make a big decision–whether or not she will pursue dance in adult life. Although she loves dance and all that it has offered her, Flinn has not yet decided if she will attempt to be on a college-level dance team. Being only a freshman, Flinn has plenty of time to decide. Besides continuing dance as a hobby, Flinn has also considered coming back to Atlantic after college to come help at her studio.
Whatever she decides to do in the future, it is clear that dance will always be a big part of Flinn's life. Giving her a job, life lessons, and many friends, being in dance has shaped Flinn into the person she is today.
About the Writer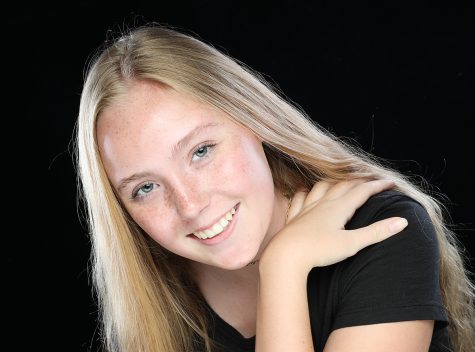 Alyssa Brockob, AHS Needle Editor
Alyssa (Aly) Brockob, is a lead editor and author for AHS Needle. Brockob, along with Dani Mathisen, is in charge of the Senior Spotlight Magazine. They...