DISGRACELAND: Disgraceful or Phenomenal? — A Podcast Review
DISGRACELAND is a podcast that tells the insane stories of modern, and past rock stars, and other musicians.
I am usually not a podcast person but I heard an advertisement for "DISGRACELAND" (a rock n' roll true crime podcast) on my favorite radio station, 101.9 The Keg. I decided I should check it out because it combines two of my absolute favorite things: true crime, and rock n' roll.
Almost every episode is about a different rock n' roller, rap artist, punk rocker, R&B singer, or some other musical artist. There are a few special cases where the story takes two half an hour episodes. John Lennon and Kurt Cobain are two of these special cases. My personal favorite episodes are the ones about Sid Vicious, Bob Marley, and the Rolling Stones. The John Lennon two parter was pretty good but all it did was make me kind of despise Lennon as a person. The Kurt Cobain two parter just made me feel depressed, although it was also well done.
When I first started listening to this podcast a couple weeks ago, I wasn't entirely sure what to think. The host, Jake Brennan, curses a lot, and he puts a lot of details in the podcast that are kind of unnecessary but still add a lot to the story he is trying to tell. For example, in the Spade Cooley episode, he put the extreme details in the crime Cooley had committed. However, if the episode reaches the extremes of the Cooley episode, the GG Allin episode, or the Big Lurch episode, he warns the listeners early on that he goes into extreme detail and to listen at your own risk. I thought that was pretty cool even though I still listened to them. That was probably a bad idea considering the dreams I had after listening to the Big Lurch episode, but it is what it is and I still enjoyed them.
Now, after listening to all the episodes he has released, I think it's one of the coolest things ever created. I like how he tells the stories of the musicians, and the sound effects that are used in the background help push the story along and for the listeners to visualize what is happening in the scene.
I think DISGRACELAND is phenomenal, and if you like true crime, and you like rock n' roll, you should give it a listen. Unless you're faint at heart, then you should probably listen to something that's a little less gory and violent. You can listen to DISGRACELAND on Spotify, Apple Podcasts, iHeart Radio, or anywhere you listen to podcasts. 
About the Writer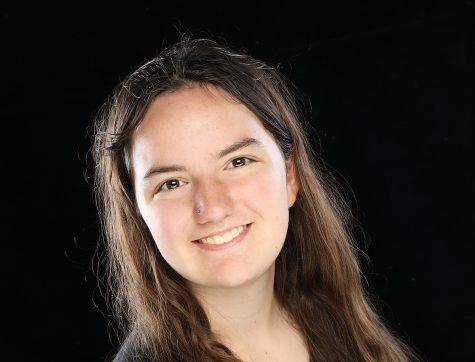 Grace Clay, AHS Needle Editor
Grace Clay is an editor on the AHS Needle journalism team. Clay mainly writes reviews, but this year she has "branched" out and begun writing cross...