Trojans Earn Their First Win of the Season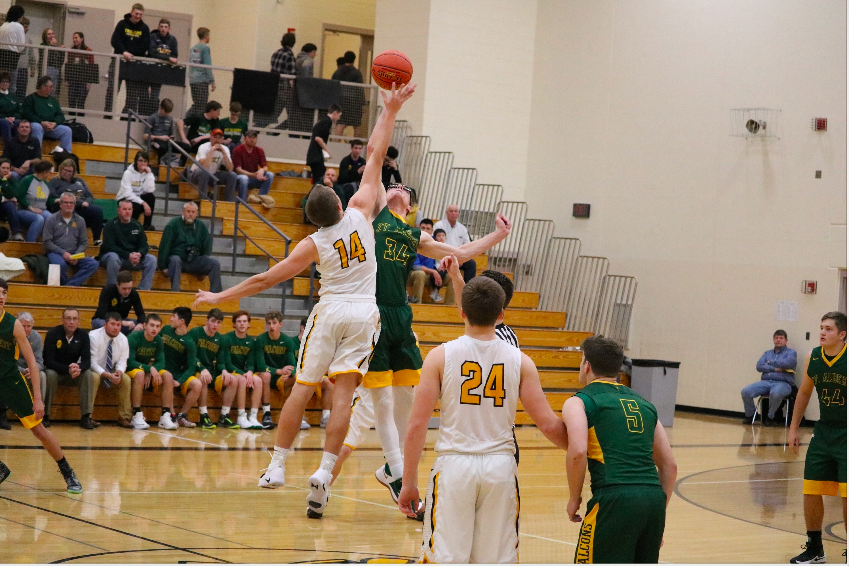 Coming off a tough loss to the Winterset Huskies as a start to the season, the Trojan boys' basketball team got their first win against the St. Albert Falcons on Friday, Nov. 30 at home. The Falcons came to the game as their season opener. Seniors Jalen Petersen, Nathan Behrends, Chase Mullenix and Logan Reilly were the varsity starters alongside junior Tyler Moen.
The first quarter was a tight one, with the Trojans down 9-10 at the end, St. Albert leading for the only time of the night. During the second quarter, the pace began to pick up with the Trojans scoring 21 points and the Falcons scoring 15 points, making it 30-25 at halftime, Trojans leading. With this in mind, they knew they would have to keep their foot on the gas and play well in the second half.
In the third quarter, the Trojans seemed to pull away, scoring 15 points to the Falcons' six to make the score 45-31. With a 14 point lead by the Trojans heading into the fourth quarter, the Falcons started to catch up in an exciting back-and-forth to make the game closer than the Trojans would have liked. Each team battled down to the second to try and win, with the final score ending in 53-50, Atlantic.
Moen was the leading scorer for the Trojans with 15 points, Mullenix not far behind with 14. Reilly was also a close contender, and scored 12 points, including two 3-pointers of his seven attempts.
After getting their first win of the season, the Trojans look to build from this game as they take on the Red Oak Tigers on the road. Tip-off is scheduled for 7:30 p.m.