Trojan Band Welcomes New Member
The Trojan band welcomed a new member at the start of the new year, Mrs. Becker. She will be with the band as a student teacher for the rest of the semester as she finishes her senior year at college.
Hang on for a minute...we're trying to find some more stories you might like.
At the beginning of the new year, the trojan concert band welcomed a new member to their family. Marie Walsh-Becker is a student teacher who is finishing up her final year at… as a future music educator.
Becker's options were quite limited when deciding where to start her student teaching that was near her home. Quite a few were out of the question because they are not allowed to choose a school where another family member is residing. The location was also important due to travelling. She lives in Corning, IA but cannot work there because her husband works at the school there. When she chose Atlantic, she has to drive 45 minutes in the morning to and from her home. Becker said, "Atlantic is close to the school i went to in size and I thought it would be a great place to learn because i usually worked with a small band and I wanted to work with a bigger ensemble."
During her high school career, Becker found a love for marching band while leading the Creston High School Marching band as a drum major. "I have been a marching band girl since freshman year of high school." This love for this fine art paved the road to her final decision of becoming a music educator. "Nothing else really seemed to fit. I thought about being a composer or  a comic artist. I have tried a lot of things and when I went to college I registered as undecided because there were so many options for me to do."
As the AHS semester continues, Becker will have a bigger role in the band as to helping with giving lessons, teach some of the AP Music Theory classes and even conduct a piece in the concert that is in February. When hearing about a student teacher joining the band, Senior Riley Seufert said, "I was excited! I thought it would be nice having a second person around to help out and have another person I can ask questions about AP assignments."
Before she can do all of that, she has been patiently listening and observing the band, getting a feel for how things run. "I'm hoping we can make beautiful music together."

About the Writer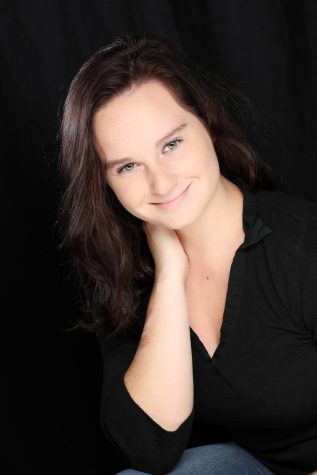 Charity Williams, Fine Arts editor
Senior Charity Williams is the Fine Arts Editor in the journalism department. She digs up the behind-the-scenes information on both the school newscast...