Singing Goodbye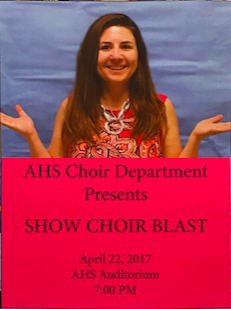 Hang on for a minute...we're trying to find some more stories you might like.
The seniors of 2017 in choir will each be performing a "goodbye" song during the show choir blast performance on Saturday April, 22 at 7 p.m. The three show choirs, Treble Makers, Premiere, and Diversity are each performing three different songs when they take the stage. Treble Makers are singing and dancing "Stitches," "A Thousand Years," and "Forget You." The Premiere show choir are performing,"Bohemian Rhapsody," "You'll Be in My Heart," and "Save the World/Don't You Worry Child." Finally the students of the diversity choir are performing,"Me and My Broken Heart," "Some Nights," and "Cruisin' for a Bruisin'."
The seniors who will be singing a song that they personally chose for this performance are, Zaria Agboglo, Morgan Anstey, Kylee Champlin, Katie Darrow, Max Elwood, Sarah Fixmer, Mitchell Ginther, Paige Henderson, Anna Iekel, Gladdy Mark, Austin Mwalia, Hunter Oliver, Hannah Richter, Nadia Somers, Alex Williams, Hannah Wright, D-One Yechem and Trinity Zynda.
One of the seniors, Katie Darrow, is singing a well known disney song from the popular movie Moana, "How Far I Will Go," which is sung by the main character Moana when she cannot decide whether to follow her heart or do what she is told to do by her family and island members. Darrow specifically chose this song because, "the meaning of it and it's about all the things her family and island tells her what to do and she wants to go out on the water and of their own thing and I can relate to that, and my parents tell me what to do and not what i want to do."