FFA is a great way to get more involved in your school, community, and the world around you. Members have the opportunity to try different activities such as the Greenhand Fire-up Camp, state conventions, or participating in judging events. These can include a variety of things like livestock judging, food judging, or even soil judging. Through activities like the FFA Creed or Conduct of Meetings, members work together to memorize their roles in the contest.
There are numerous different options to compete against others in FFA. However, in order to be awarded at the national level, members must advance through levels of competition. They will compete against their local chapters (third or better), at the sub-district competition (second or better), the district event, the state convention, and finally at the national level. 
The National FFA Convention is a leadership opportunity that inspires future leaders in agriculture. It is a convention held once a year for five days. This year it is in Indianapolis, Indiana from Oct. 31 to Nov 4. 
Many members who have attended the convention in previous years have had incredible experiences. Sophomore Lily Johnson went as a freshman. She said, "We got to go to the sessions and meet people from every state, and we got to tour around Louisville and Indianapolis." FFA members must submit an application to be considered to attend the convention. Johnson believes that "everyone should fill out the application even if they think they don't have a chance."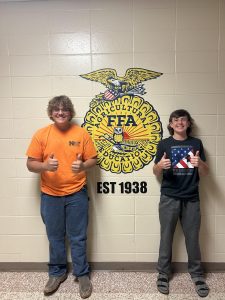 Senior Colton Becker also enjoyed the opportunities the convention offered. Becker is a fifth-year FFA member and this is his second year attending the National FFA Convention. "My experiences at National Convention have been quite fun. I love meeting new people," Becker said. He is very excited to go again this year and encourages everyone to apply. 
Sophomore Frank Freund is a first-time convention attendee. He shared the details of the application process. "Once everyone filled out the application, eight FFA alumni members picked 14 members to go," Freund said. The members were selected based off of involvement in the chapter, grades, character, and other factors.
If a member wasn't selected this year, the chapter encourages them to try again next year. If anyone have questions about joining FFA or the things the FFA chapter does, ask any FFA member or contact FFA Advisor Eric Miller.