A great week takes a great amount of work, and the Student Council of AHS has that covered.

The week of Homecoming 2023 started preparations early with several summer meetings, according to Student Council President Emma Winford. "We try to get the hard things out of the way so that once the school year starts and it gets closer we aren't stressing about it. Then we break up into committees and go from there," said Winford. After the theme of "Trojan's Got Game" was decided for the week to revolve around, work was delegated to committees for dance decor, pep rally organization, Homecoming court, and more.
Collaborations are done between the members of the Student Council as well as with staff and faculty members to provide the best experience for students. Community support is important for the week's preparations, too. Businesses in the area like Hanson's Fine Jewelry, Hy-Vee, and the Coca-Cola company contribute to the homecoming festivities through further collaboration. Students can also volunteer through the school to help decorate local businesses for Homecoming.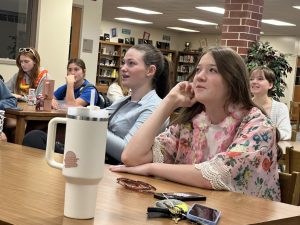 Many traditions have been carried on from previous years. Students can expect to see dress-up days, spirit points, and the dodgeball function the same, but student mascots for each grade level have been added to the dodgeball games in order to cheer on their peers, too. The mascots were voted on by their own grade levels. Also, lunch games are no longer hosted by the Student Council because they weren't seen as a "huge success", according to Winford; instead, AHS Fuel has taken over the afternoon activity for the week. They have many different games planned like cup stacking, ping pong, cookie drop, scooter races, and a candy straw game.

Time, effort, and dedication all go into making each school year's Homecoming week special, and it wouldn't be possible without the AHS Student Council behind the scenes.