Working Towards Improvement
The boys' basketball team continues to improve after a rough start to the season.
"You know we've had our struggles, had our ups and downs, but we're starting to play better basketball," said senior Jackson McLaren. The boys basketball team's record is 6-11. It may not seem like the season is going their way, but their record does not show the team behind the numbers. With seven seniors leading the team, the boys have lost five games by a margin of 3-8 points, with two of those going into overtime. Switch the results of those tight games and the boys would be 11-6. 
The boys also have a deep bench and play up to nine players per night. Some of those players are among the top stats in class 3A. Junior Nolan Waters is leading 3A in 3-point percentage with 56.8. Senior Carter Pellett is leading 3A in defensive rebounds with 136. Junior Colton Rasmussen is eighth in 3A for points with 296 on the season. These stats show that this team has talent. 
"
We're playing good basketball right now and our season will turn around pretty quickly.
— Carter Pellett
Head coach Derek Hall has seen improvement since the season started in November. The team's movement has been better offensively and their defensive rotation continues to develop. Hall is hopeful for the rest of the season. "As long as we keep improving every day, we'll be playing our best basketball when we need to," said Hall. 
This is Hall's second year as the head coach. Last year the boys team finished with 8 wins and 14 losses on the season. It was a similar story where the boys lost 9 games by a margin of 2-7 points. But after a rough start last season, they began to play together and compete in games. McLaren said, "It's kind of the same situation so we aim to build on that. We have experience in those close games so hopefully, we can start to come out on top."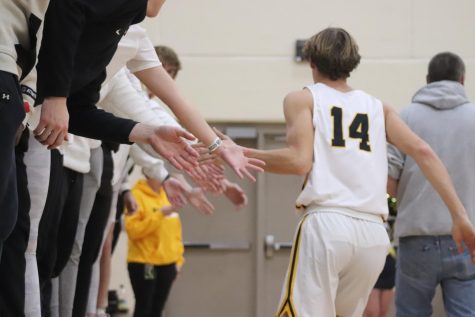 The boys have shown intense competitiveness in multiple games. At times they have been down by 15-20 points and have crawled their way to be right back in the game at the end. "We just have to keep working and trying to break through there," said Hall.
Although the results of the games have been frustrating, the team has enjoyed playing basketball and spending time with each other. "I got to play with my little brother last game," said McLaren. "He got in in one of those serious moments. It was pretty cool, one of those proud big brother moments."
Hall said that he enjoys just hanging out with the guys and going to practice every day. "Just being around them, they're all goofy, you know that, coaching them is my favorite part."
"
I got to play with my little brother last game…It was pretty cool, one of those proud big brother moments.
— Jackson McLaren
As the team looks towards the rest of the season, they will need to continue playing at their best. Their three upcoming games will be against Red Oak, Denison, and Harlan, and they take on Denison one final time to finish up regular season play. "The rest of the season will be a lot of competitive basketball and I think we're going to make a pretty good run," said Pellett. "We're playing good basketball right now and our season will turn around pretty quickly."