Girls' Basketball Team Soars Towards Success
The girls basketball team looks toward post season with high hopes.
The dream season. After a slump in the girls basketball program for seven years, the team set high goals for the 2022-23 season. They have been breaking records and are among the top teams in the state. With 14 wins and only four losses, the girls team has already tied for the most wins in a season since 2004. "Seeing our record is really rewarding because it's a huge milestone for our program," said senior Jada Jensen. Led by five seniors, the team has high hopes for post-season success.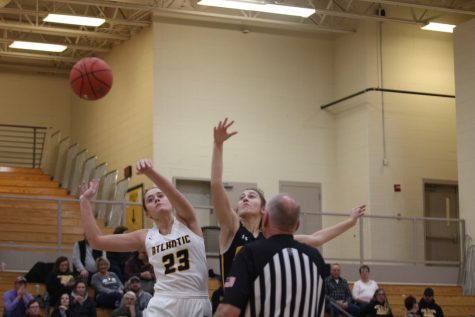 The girls' defense has driven the team's accomplishments. Opponents have struggled to get an offense going as the Trojans are allowing an average of only 38 points per game and getting 14 steals per game. Jensen is currently fifth in class 3A for steals with 76 and sophomore Patyn Harter is 11th in 3A for rebounds with 175. 
"
Seeing our record is really rewarding because it's a huge milestone for our program.
— Jada Jensen
In the past three games, the girls have only allowed an average of 6.5 points in the fourth quarter. Head coach Daniel Vargason said, "I think the defense has come together strong. Coming into the season a big focus was improved defense. I've been very happy with the way we're rotating and moving together."
The girls' offense isn't the star of the game, but it's still a strong aspect of their play. The lead scorer usually varies from night to night and the spread of points is fairly even. Harter averages 14.4 points per game and Jensen averages 10.9 points per game. Senior Aubrey Guyer and senior Madison Huddleson follow closely behind with 7.9 and 7.3 points per game respectively. Harter is sixth in 3A for offensive rebounds with 76. "We've had some players step up in big games and not just one or two, everybody has. Everybody's had a moment where they've contributed," said Vargason.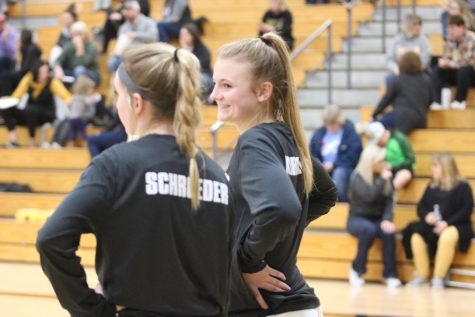 Jensen plays point guard and has started for the Trojans since her sophomore year. She has been a valuable player on the team and is continuing to develop her skills. Jensen said, "I think a big thing has been expanding my game. Not just only driving to the paint but being able to shoot those midrange shots." Jensen said she's been working on finding the posts and finding scoring options for other people. Jensen is currently fifth in 3A for assists with 88.
Senior Keira Olson said the team is working hard every day to improve. "I'm not sure if there's a good way to measure improvement in the sense of basketball, but we're winning those games and that's a team effort." Olson said her favorite part of the season has been the team aspect. "I haven't felt this connected to a team in a very long time, and we've done a great job of maintaining that closeness this year."
The success is not only due to the work done in the gym but also the relationships the team has made with each other. Jensen said, "We all get along really well so it's super easy to tell people when we want something changed or something improved."  
"
When we put our talents together we're unstoppable basically.
— Keira Olson
This has also been shown in close games when the team comes together to finish it off. "It's nice to see all the hard work we've done in practice translate over into games," said Olson. "We're all very talented individually, but when we put our talents together we're unstoppable basically."
Vargason said that "playing together and playing hard" has contributed to the success this season. "Sometimes our shots don't fall and the other teams' do, and we can't always control some of those things. But seeing people play together and celebrate together, that's what I enjoy most about this."
Looking forward to post-season, the girls have a chance of a very good run. "Hopefully we get a good draw, said Vargason. "But we're coming into that crunch time where we have to execute and play together."