Qualities that Make a Teacher Good
AHS students share their thoughts on what makes a teacher "good."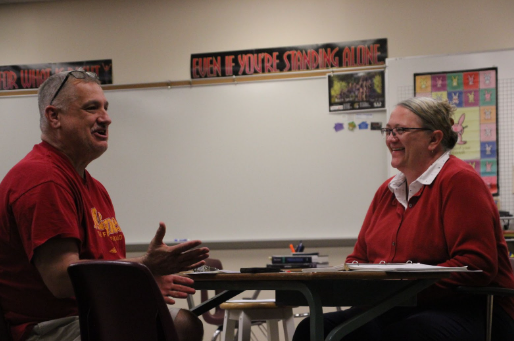 Teachers have a lot of knowledge about everything, specifically in the subject they specialize in. A good teacher expands their knowledge and continues to provide good answers to their students. Similarly, a good teacher is like a friend that helps us in all our troubles.
Garret VanHorn, an AHS sophomore, said a good teacher is one that gives you good attention, keeps you focused in class, and helps you when you need it. They also make the thing you're learning fun. VanHorn says that something they should do better is act like they want to teach it and include hands-on work for activities or the subject, and interact with their students more.
Freshman Sophie Johnson said a teacher that communicates well with their students and explains well with their students, and creates a relationship with them is a good one. Something they could do better is explain things because she, like many others, sometimes struggles with understanding things with bad instructions. Something that separates the good teachers from bad ones is that "there are a lot of good teachers but there are those teachers who can sort of offset. Mainly in our school, we have a lot of good teachers." She had one experience where "the teacher kind of favored another student from the others and weren't good teachers in that way. They helped these other students more than the others and didn't explain the problem the same."
Audrianna Bayona, another AHS sophomore, said a good teacher is one that's good at explaining things and has the ability to be confident while helping others. "Something teachers could do better is explain things better like give examples with the lessons because some students don't understand or don't get it," Bayona said. She thinks a good teacher that is separated from a bad teacher could be one that always checks in with their students to ask if they need help and a bad teacher is one that doesn't let you ask them until you ask your classmates questions
In other words, a teacher does not just stick to the role of a teacher. They adapt to various roles as and when the need arises. They become our friends when we are sad; they care for us like our parents when we are hurt. Then we see how great a teacher can impact a student's life and shape it.