Janitor Shortage Causes a Dilemma in AHS
Is There a Need for More Substitute Custodians?
Custodians are in charge of keeping the school tidy and clean; however, they also set up and tear down events and repair everything from pencil sharpeners to clogged drains. They look at storage needs in the building and much more. "It's more than just cleaning up spaces," Atlantic High School Principal Heather McKay said. The "Maintenance Team" consists of ACSD Maintenance Director Russell Peck, Head Custodian Richard Smith, and custodians Bryan Guy, Tracy Jacobs, Mikade Thompson, Don Boggs, and Cole Lowary. 
Many weeks ago, various teachers were seen vacuuming their floors in an attempt to help the custodians out, including English teachers Allison Berryhill and Randall Simpson. According to Smith, the messy floors had a lot to do with a lack of high-school substitute custodians. Smith mentioned there were multiple custodians gone at once for different reasons. McKay acknowledged this lack of high school custodians. "There is a lack of substitutes in every area, not just maintenance," she said. 
Smith noted issues of budgeting and not enough qualified candidates that want to work. 
According to Peck, "It's more about the lack of interest versus a budget." In fact, it has been a while since people have replied to substitute custodian postings. According to Peck, There were two people who replied in the past; however, the main issue for those two people was that they were only going to get a few hours per year. They also both had regular jobs, which made it difficult for them to do the sub. "Trying to find subs is difficult mainly due to the lack of hours they would get when they could work part-time somewhere else," Peck said. 
Peck was unsure if the school still has postings for substitute custodians since the last responses were from several years ago. However, according to superintendent Steven Barber, "There is a continuous job opening on TeachIowa, so if someone shows interest, we will interview them." Barber also said, "Unlike a substitute teacher, who has the ability to work in the district on a daily basis, filling in for custodians is inconsistent and infrequent; the position is not very attractive and requires a specific work schedule to be able to fill the district's needs." 
Barber said that the current maintenance staff does a good job keeping the building clean. He said that most of the vacation available to custodians is taken during summer; during that time, substitutes aren't needed because students aren't in session. There are only a few times during the school year when daily duties are not completed. "If some custodian is not available for a long period of time, Mr. Russell Peck will work out a solution to ensure that those duties of the individual who is gone are getting completed," Barber said. 
According to Barber, the need for substitute custodians is "really a hit and miss and difficult for someone to be on call." According to Guy, usually, the lack of substitute custodians is not a problem. "It really hasn't been an issue because most of the time everybody is here," Guy said, "except like if they take a vacation or need a day off." 
Guy said that most of the work they have to do when their fellow custodians are gone are responsibilities they can take care of without needing a substitute. "We can cover somebody during the day if it's just one or two days," Guy said. "If it's longer than that, then they might bring somebody from another building up here." 
According to Smith, when custodians are gone, the protocol is to empty trash and whatever else they have time to do in that missing custodian's area. Custodians each have their own area to clean in addition to other duties. This means they can only do so much in the missing custodian's area before they must move on to their own responsibilities. Guy also mentioned that they generally just empty the trash and that if he has some extra time, he will go back and clean some more. "I try to get the rooms vacuumed if somebody is gone for a while, but sometimes it doesn't always work out that way," Guy said.
According to Emily McLaren, Central Office's Payroll Administrator, the starting pay for the part and full-time day custodians is $16.52. The sub custodian starting pay is $13.50. Peck said that for someone to become a substitute custodian, "They would be required to pass the same process as our custodians do." This process includes filling out an application and then getting interviewed by Peck and a couple of custodians. "They'd need to have a high school diploma or equivalent, pass a background check along with a physical fitness test at the hospital to establish a baseline for our workman's comp coverage," Peck said.
"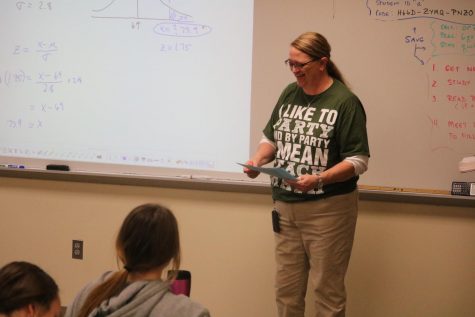 Over the years, I've heard students, certain students, that make a mess that is out of the ordinary and people say 'ah, the custodians will do it.'
— Sheila Hayden
Math teacher Sheila Hayden and McKay both agree that helping out the custodians whenever you can is something everyone should do, and custodians are essential people to the school. "Over the years, I've heard students, certain students, that make a mess that is out of the ordinary, and people say 'ah, the custodians will do it,'" Hayden said. She believes that people should clean up these abnormal messes because they are not part of the custodians' jobs. "You make a mess; you clean it up," Hayden said. 
McKay talked about how "amazing" the custodians are at building relationships with people and how good they are at thinking in logistic ways. "They are like my go-to people for anything and everything," McKay said."They're natural problem-solvers." She also mentioned that the custodians are not only helpful, but they are also kind. "I know that I can go to any of them, and they will stop what they are doing and help," McKay said.