Student's Art to Brighten Downtown Atlantic
Sophomore to paint a mural as a Girl Scout project.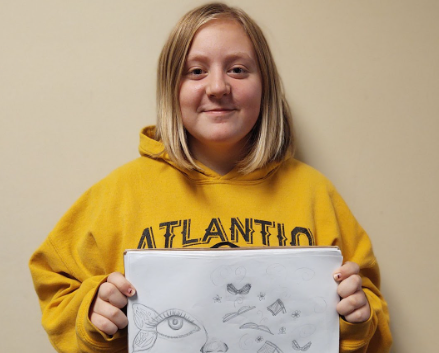 Molly Harris is a "nice and caring" artist that is going to be painting a mural in downtown Atlantic. She will be painting the mural with inspiration from Girl Scouts. Harris has been involved in Girl Scouts since first grade.
Girl Scouts can receive an award for doing 100 hours of volunteer work in your community. When thinking about what to do for her award, Harris wanted something different, big, and for the community. "What am I good at drawing?" said Harris. She started sketching and created an eyeball and then she expanded on the idea. 
"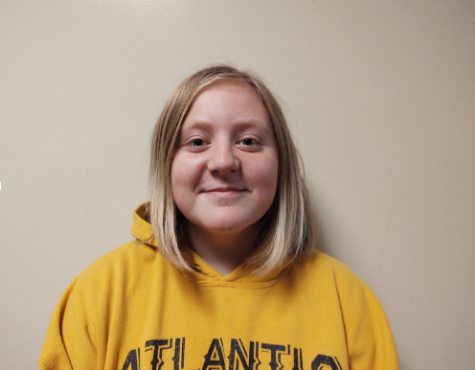 [Atlantic] needs to brighten up in areas.
— Molly Harris
Harris's art is "outside of the box" and very unexpected. She plans on painting a cartoon eyeball with lots of color, butterfly wings, books, and splatter paint. Harris said, "Our downtown needs it…It's definitely getting older… [Downtown is] pretty dull and needs to brighten up in areas," said Harris. She hopes to have the mural completed by next summer, and it would be great to have it finalized by the time fall sets in.
Harris isn't sure about the location of the mural yet but knows it will be somewhere downtown, on the side of a building.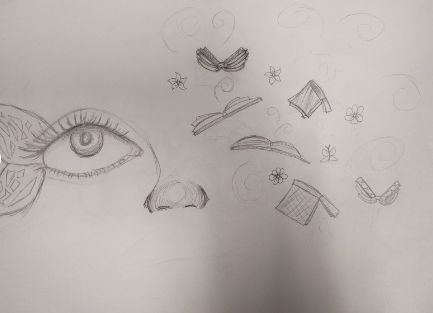 Downtown is the best location because it would "brighten" it up. It is a cool area for pictures, and it's where a lot of people spend their time. There is also less of a chance for vandalism. This project will take a lot of time and effort to do. She has her friends or "backup people", Nissa Molgaard and Josie Molina, to help her during this project.  
She is nervous and excited about the results. She said even though it is going to be a big project, it could potentially earn her a scholarship. Chris Bennett, one of Harris' Girls Scouts leaders, said it's a "great idea," This project definitely meets the requirements for the scholarship as well. Bennett doesn't know a lot about it, but is supportive of the idea. "Girl Scouts is a great organization, promotes leadership in women, and doesn't get enough recognition," said Bennett. 
Harris thinks it will take at least a week to finish the mural. First, she has to sketch it out on the surface, then fill in the solid lines, and finally add color and other details. She hopes it will turn out and people will enjoy her art.