Banned Books Awareness
Many books in the AHS curriculum have been banned.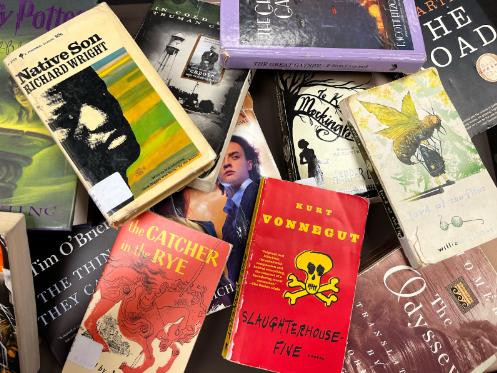 "A book worth banning is a book worth reading," as said by Asimov. Oct. 1 to Oct. 7 is Banned Books week in the United States, which was started back in 1982 in order to challenge the high amounts of books being banned. English teacher Randall Simpson said that a book is usually banned for one of three reasons, those being sexually explicit content, offensive language, and content unsuitable for an age group, which are "pretty wide nets." However, many students have said that books have been banned for other reasons, such as LGBTQIA+ relationships and Black authors talking about their problems as a marginalized community. 
"I think it's important to understand or make a distinction between a book that's banned and a book that's been challenged. A lot of times when we're talking about banned books, we're talking about books that have been challenged. It's not like you can't read them," said Simpson.
When you hear about banned books taught in your curriculum, it is always referring to a challenged book. A challenged book is a book that has been banned in other schools or an attempt to get rid of a book, while a banned book is a book that the school is not allowed to distribute to students. Atlantic High School's curriculum has taught many books that have been frequently challenged in other schools. Animal Farm, Of Mice and Men, Lord of the Flies, and To Kill A Mockingbird are just a few titles that have been banned in other schools.
Atlantic High School has not banned any books for at least the past 26 years that Heather McKay has been principal.  But as Simpson said, he always reviews the material's value if he wants to teach a challenged book.  "I weigh [controversy] against what I think the kids will get out of it."
Challenged books taught in the AHS curriculum have been banned in other places for a variety of reasons. Excessive violence in Lord of the Flies, white supremacy in To Kill A Mockingbird, and a person with a mental disorder getting shot and killed in Of Mice and Men: each book has "really dark themes," said sophomore Molly Harris.
But each book would not be the same without its "dark" theme. In Lord of the Flies, "The violence is excessive, but not purposeless." Every book has some sort of purpose, and many students think that banning books is unnecessary. "Why would you ban a book? What happened to freedom of speech?" junior Genevieve McCalla said, asking such a rhetorical question in order to prove a point. 
"
My stance on this is that it allows you to read other people's thoughts and get the experiences that you, per se, wouldn't have in your lifetime."
— Nissa Molgaard
There is great importance in reading banned books, even outside of a classroom, such as learning about representation and "religion." Sophomore Nissa Molgaard said, "My stance on this is that it allows you to read other people's thoughts and get the experiences that you, per se, wouldn't have in your lifetime." Molgaard estimates that while they've read five to seven challenged books in school, they've read over 20 banned books out of school. Harris said, "I feel like it helps people explore themes like LGBTQIA+, poverty, wars, and if we're not allowed to read them, there's issues there," while McCalla said, "Books that are taught in the classroom are never trying to push a view onto someone, it's just another view. There's no purpose in banning it."
Books are constantly being challenged in our society. From teen novels, such as The Hate U Give, to children's books, such as And Tango Makes Three, information is limited. But by exploring these banned books and looking deep into their themes, you can learn a great deal about the past, present, and the possible future for our town, country, and even world.