Art Returns to AHS
Meet Elizabeth Herrick, the new art teacher at Atlantic High School.
After a semester with no in-person art classes at AHS, Elizabeth Herrick has been hired to bring art back to the school.  "I would explain art as influential," Herrick said. She has always had a natural interest in art and creating. "If I can't manipulate the space around me, I get bored and my eyes glaze over."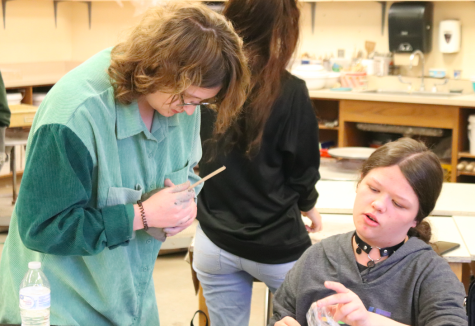 Herrick describes herself as creative and "very analytic" which is very "parallel" to doing art. "You have to do a lot of planning to do a lot of higher planning art.
"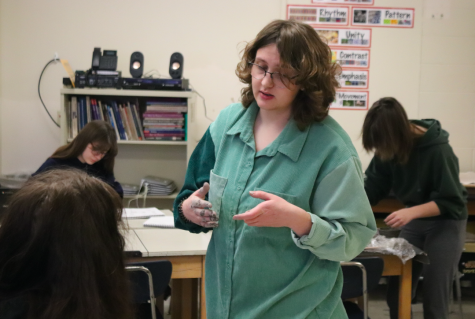 If I can't manipulate the space around me, I get bored and my eyes glaze over.
— Art teacher Elizabeth Herrick
This semester she is hoping to kick off the art program again. Herrick wants to get kids and the community involved and have art "fun" for people again. Driven by painting, Herrick likes painting with watercolor or oil paints. She also likes working with sculptures. "I work with a lot of metal and cement."
In basic art, students have been working on pointillism, stippling, and making animal portraits. They are also learning color theory. Intro to drawing is going to be making paintings of themselves based on a psychology survey. Advanced art is working on cubism. They are making portraits with cubism and creating them out of cardboard. Ceramics students are making slab lanterns, and the graphic design class is making logos.
Herrick went to college at Northwest Missouri State. Her senior year, she wanted to do a big project. Her art professor suggested doing something for the school and the college contacted her to create a piece. She created the project around suicide awareness, inclusion, and diversity within minority groups. "It's a piece to make you feel included.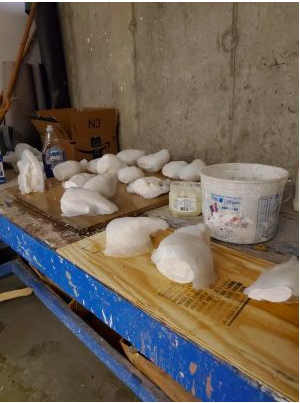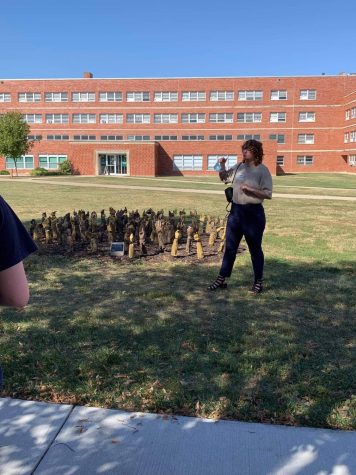 Herrick wanted to make a project inspired by Andy Goldsworthy, who produces site-specific sculptures. "You have to manipulate the space around you to be able to view the whole thing. I had become obsessed with sculpting hands. I would create casts of my fiance's and my hands out of wax, take off the wax, reseal the wax, then put them inside a sand bucket, pour plaster on the mother mold, and then pop it out and it would be a whole bunch of hands," said Herrick. She also used rubber and cement. "It took me about 300 hours at least. It weighs about 1,000 pounds."
Since Atlantic was hiring mid-year when Herrick was graduating, she jumped to the opportunity. "I grew up from Iowa. I'm from Northern Iowa, my fiance is from Kansas City, Missouri so it's directly in the middle," Herrick said. Herrick said she missed the small towns. She said Atlantic has "just been everything I needed."
Having her old high school art teacher and her mom to look up to, Herrick thanks them for providing her with lots of skills and lots of confidence. She admires her mom "because of the way she enjoys life and her community."
Outside of school, in her free time, Herrick likes to put on Dateline TV in the background while she plays Pokemon. She also is very passionate about her pets and animals. "Animals are something that drives me." Herrick has pet rats named Talula, Juniper, Clemintine, Paisley, Florance, Clause, Piper, and Stumpy.
Principal Heather McKay said, "As the granddaughter of an art teacher, I am thrilled to have a full-time art teacher back in the building." McKay said, "Miss Herrick has been making great impressions so far, and I look forward to how else she will mold our students."
Freshman Amilia Peterson is one of those students. "What is most enjoyable about art class is the freedom we get with the projects [Herrick] gives us." Peterson said the new art teacher "urges us to explore our own styles and take complete creative control."
Like many in the school, Peterson said art is an important part of her life. "[Art] is kind of a form of self-expression for me. It's one of the only things I know I am good at, so I try to improve my skill with challenging myself. I enjoy knowing I created something new into the world that wouldn't have existed if I didn't make it."
Peterson said art is "like my mark on the world." Herrick is here to make a mark on AHS.