National Honor Society Induction Ceremony
38 students were inducted into NHS at Atlantic High School.
The National Honor Society is a program that awards students for academic achievement and community service. It has four pillars; scholarship, service, leadership, and character. Members show their dedication through volunteering and providing a helping hand for local events. There are NHS chapters in all 50 states and other places around the world and it has quickly become one of the nation's leading educational groups, according to About NHS. One chapter just inducted 38 new members to its program. That chapter was Atlantic High Schools.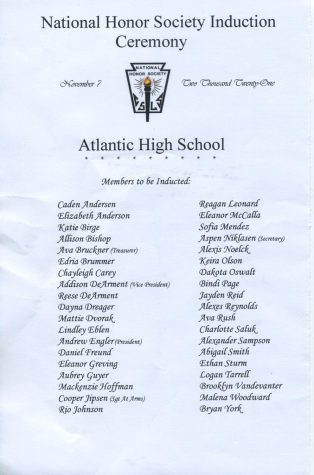 In an afternoon ceremony held in the school's auditorium on Sunday, Nov. 7, inductees were welcomed into the society with a pledge. Afterward, a reception was held in the commons area. The NHS officers, treasurer Ava Bruckner, vice president Addison DeArment, president Andrew Engler, sergeant at arms Cooper Jipsen, and secretary Aspen Niklasen, spoke at the event while NHS sponsor and band instructor Jarrod O'Donnell gave each student their certificates.
Engler said the NHS officer election took place during the first meeting of the year. "It's kind of like an elimination process, that's how it works," he said. According to Engler, community service is one of the most important responsibilities of an NHS member. "Mr. O said he has a lot of community service projects he wants us to work on and we also volunteer for two blood drives." His duty as president is to "run the meetings."
DeArment said the process of getting into the NHS requires candidates to write a resume. "On the resume, you put things you've been involved in throughout high school, leadership roles, volunteer roles, etc. After submitting these, a group of teachers vote on who they think should be in the NHS," she said. Her job as vice president is to take attendance as well as design the t-shirt. Another responsibility of an NHS member is cleaning up the community. "After all home football games we cleaned up the bleachers," DeArment said. 
The program is offered to juniors and seniors that are eligible to join. While the induction process is already over for this year, a new one will begin next year.