Lights, Camera, COVID: Local Cinema Strives to Stay Relevant
The movie industry adjusts to the pandemic.
The moment when the viewer's eyes reflect bright lights, the moment when the whole world except the screen becomes blurry and muted, the moment when even a time becomes slower. Happiness, laughter, tears, excitement, fear, inspiration – all of these emotions can be packed into a two-hour story. A movie makes a person feel something. Once upon a time can change someone's way of thinking and can lealve a lifelong impact.
English teacher Robert Astuni said "[movies] have entered the way I teach, the way I think." His love for one sci-fi series has inspired the decoration for his classroom. "I have Star Wars all over my classroom." I had a license plate similar to one of the ships, my youngest daughter's middle name is the name of one of the characters from Star Wars, and I literally do not go a day without quoting it," he said.
Movies can be a great way to spend a Friday night and forget about everything. English teacher Randall Simpson said "The Godfather" is his "comfort movie." "I like it because of acting and cinematography, but it is just an interesting movie that I enjoy."
Emotional involvement and the experience that people are going through while watching movies together have strong physiological responses in their brains. According to UCL's Department of Experimental Psychology, people's heart rates and electrodermal activity go up and down during the span of the movie. Depending on the engagement of the person, these indirect measures of emotions elevate and drop.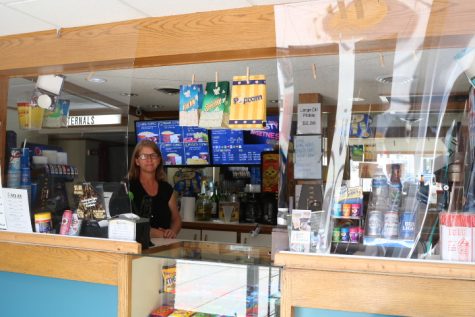 Nowadays, cinema theaters have worthy alternatives in the form of streaming services such as Netflix, Amazon Prime, Roku and Hulu which have their own buttons on the TV remote control just like they have a special place in people's plans at the end of the day.
New comfort options appear daily and already existing ones become viewers' must-haves even faster. Pause button, rewind option and environmental control – your own no ads full HD 4K heaven only for $15 per month.
 The local Atlas Atlantic Cinema, like theaters across the country, was hit hard by the COVID-19 shutdown. As it struggles to build back its clientele, it is offering popcorn sales in addition to movie tickets. People who want to support Atlas and keep a theater open in Atlantic can do so by going to the cinema and buying snacks, which is the way theaters generate most of their revenue.
There are still a great number of people that love cinema theatres. Senior Jaci Smith is one such person: "I like to watch movies in theatres because of the experience and I hope that theater will never go out of style."