Under The Lights
Homecoming 2021 is underway with many activities coming up.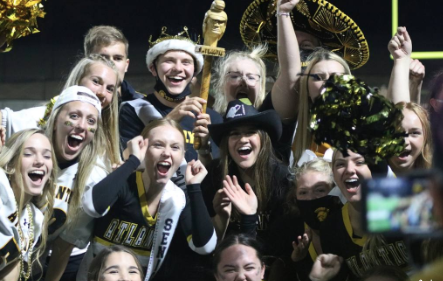 After COVID taking over last year's homecoming, this year's "Around the World," is in full swing with float building, dodgeball, dress days, lunch games, the football game, and the dance.
This year's theme is Around the World, voted on by the Student Council. Advisor Sarah Rose said they chose the theme by "going through things that we thought were cool and also thought about K-12 cause we want to have the same themes for K-12, access to those access dressing materials, we don't want people to buy a lot of stuff."
Starting off homecoming week with a bang; Monday, AHS bingo will be played during AO. Tuesday students will face off in dodgeball with American History teacher Trace Petersen announcing. Freshmen will play sophomores, while juniors will play the seniors. Wednesday, you vote for who you want to win for homecoming king and queen after the royalty introductions. Thursday, dodgeball will be going on again with losers facing losers and winners facing winners. Friday, there will be no AO due to the pep rally.
Dress Days this week include 'Merica Monday, Tacky Tourist Tuesday, Western Wednesday, Travel Day Thursday (PJS), Coming home day (black and gold).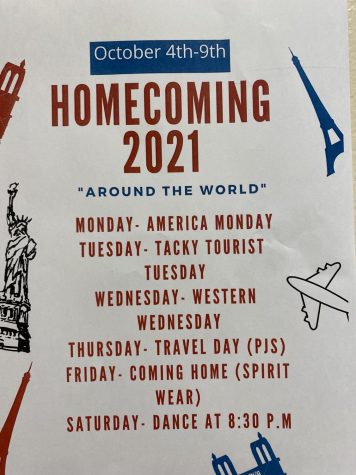 Lunch games will also be underway during A and B lunches. This year, the games will be a straw game, cornhole, and spoon racing. 
Also, there is a food drive going on during homecoming week. There will be boxes out front for each grade and whoever has the most would get the most spirit points. A food supply list will be sent out.
Float building is in progress as well. Talk to class advisors for times and locations. Rose said, "I know one of them is doing a Paris theme, a couple is doing globe stuff and I think someone has an Egypt theme." Judging will take place Wednesday evening.
The pep rally and coronation will take place Friday at 12:13 p.m. Rose said, "The pep rally that's organized by the cheerleaders is performing loyalty, pump it up, battle cry, their routine, the coaches will come out, and the senior football and cheerleaders competition. Then loyalty again, then that will go into a coronation, the choir will perform 'Son of Man.' Last years' royalty will be introduced and then they will announce our king and queen."
The parade will follow shortly after at 2:30. AHS encourages businesses and individuals to join the parade. Contact the office with any questions or find a parade entry form on the school's website.
The Trojan varsity football game will face the Knoxville Panthers Friday night at 7:00. During half-time, the band will play and the spirit stick winner will be announced.
Saturday, the dance will start at 8:30. "We had some scheduling issues with the DJ this year, so we're gonna do DJing a little bit "in-house." We have pretty much everything we need for that, so we're still trying to line up our MC. We have some people who we're talking to and figuring stuff out so it'll be a little bit of a surprise," said Rose. 
There won't be any COVID restrictions this year. Rose said, "I think we're trying to revert back to more normalized, so COVID hasn't really affected a lot of our decisions. We wanted to have a parade, we wanted to have dodgeball, we wanted to make sure we had a dance. All those things are coming back into normal and bring back some normality.''