Iowa PBS visits Atlantic High School
Iowa PBS came to Atlantic High School to film a segment about student achievement.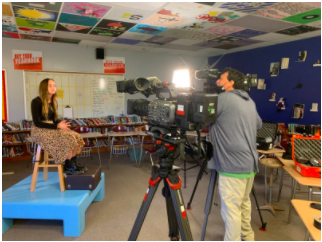 $50,000 of equipment: bright lights, two huge cameras, a backdrop, and a two-person crew is what Iowa Public Television brought to AHS to interview senior Brynna Kern about her award-winning video.
Iowa PBS was working on a feature of student achievement to show during the broadcast of the Iowa girls' soccer championships. They also wanted to include "young achievers'' outside of sports in the broadcast. The Iowa High School Press Association reached out to journalism teacher Allison Berryhill to feature the AHS program and Kern's video.
The directors chose Kern's video profile, "Zoey's In The Driver's Seat," which she made last year right before closing due to Covid. The video is about sophomore Zoey Moore and her new, innovative wheelchair. 
Kern thought it was "an amazing idea from the start." Kern also included Zoey's mom, Amber Moore's perspective on the chair, the steps it took to get the chair, and the benefits of it. A. Moore said, "This gives Zoey a new type of freedom she never had." 
The video includes Z. Moore talking about how excited she was to get the new chair. 
"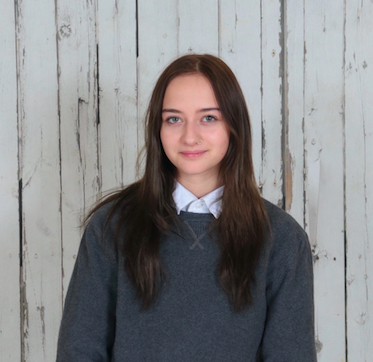 They were interviewing me on such a simple video compared to a 'real deal' television show
— Brynna Kern
"The making of the video was difficult," Kern said. It was her first video she made in journalism, and it was "all a new process." 
The most difficult part for Kern was to capture the emotions and meaning behind both Z. Moore and her mom.
Kern won first place in the video story category in the Iowa High School Press Association contest. PBS then picked her video to showcase.
Kern said she was scared and intimidated during this filming process. "They were interviewing me on such a simple video compared to a 'real deal' television show," said Kern. 
Berryhill said working with Iowa PBS "was really interesting. It was fun to work with people who are actually doing this for a career, when I'm teaching students here about the same thing." She also said the crew was very "relaxed" and fun people to talk to.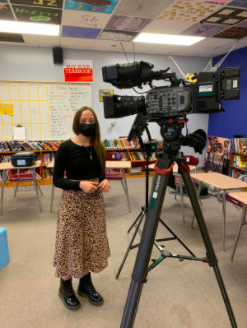 Kern said that despite her nervousness, the cameramen were very understanding.
The crew also filmed b-roll and took many shots of other journalism students working in the classroom. "I'm eager to see what it looks like when it all gets put together," said Berryhill. 
IPBS interviewed Kern about her video and the AHS journalism department. The story filmed doesn't just highlight Kern and the journalism department; it also highlights Z. Moore. 
"I was really proud of our school for being recognized in this way and I want to see us continue to win awards in broadcasting," said Berryhill. "I love profile packages and so I would like to see us use this as a profile exemplar to show what we are capable of doing and keep reaching for that."
Kern's video will play statewide at halftime of the Iowa Girls High School Athletic Union girls soccer championships in June.