First Jobs in High School
Many students balance school, activities, and a part-time job.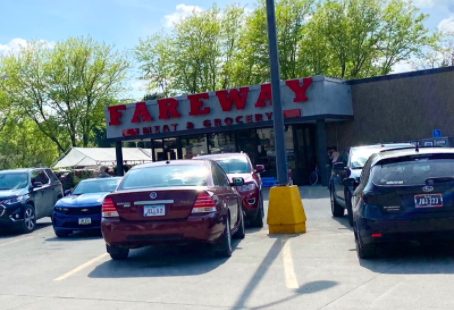 Studies show that just over 35 percent of teens in high school are part of the workforce. Almost all are employed in a part-time capacity to make time for both school and work. Different opinions can tell you whether the benefits outweigh the negatives or vice versa. The question of whether high schoolers should be getting jobs is entirely dependent on the work ethic, time management, and overall willingness of each individual person. 
Eighty-six percent of the students interviewed at Atlantic High School is currently employed at some sort of workplace. In Atlantic, there are several popular jobs among teen workforces, such as Udderly Delicious, Fairway, Hyvee, Louie's Shaved Ice, McDonald's, and several others. Most have wages varying from minimum wage up to 11 dollars. 
"Yes, I think it is good for high schoolers to make their own money," said freshman Mackenzie Morris. This is one of the major benefits and reasons high schoolers are finding jobs. "If I needed to buy something, then I had the money for it," said sophomore Jadyn Cox. 
However, a job comes with "less time for activities, hanging out with friends, and generally having free time," said freshman Jayden Hoeck. Other students run into problems like, "Sometimes my job can affect the performance of my school work."
 Research shows students who work up to 20 hours a week suffer from reduced academic performance. Students with long work hours may also see it reflect their mental health, as more and more is piled on their workloads. "When I was working about 20-25 hours, I never felt like I had free time to myself, and if I did, it was doing homework," said senior Shayla Luke. 
Nevertheless, starting a work career at a younger age can be beneficial. Working teens are also able to build a resume early, which helps in the long term. Teens with prior experience are more likely to get a job over peers with a lack of any previous work experience. It also is a prime time to work on lessons that will help throughout the continuation of any future jobs.
 "My time management skills, learning the values of money, motivation, and social skills, and more have been gained while working," said junior Carina Birkel. Balancing a job with school requires figuring out how to schedule their day, enhancing the time management skill that will be helpful throughout their lives.
 A job also helps build confidence and overall improve communication and social skills. "At a job, you don't get to choose the people you surround yourself with. In most work environments, you will have someone that you don't necessarily get along with. I've come to learn that while you might not like them, you can at least tolerate them. It's also pretty stressful to work with the public, so I'm trying to learn how to grow a "thicker skin," said Luke
Realizing the importance of money and the taxing hours to get, shines a new appreciation on people in the workforce. "I never realized how hard essential and minimum wage workers have it till I began my job at McDonald's. In a way, it has caused me to become more conscientious and understanding of others." and "For starters, people tend to judge others based on the job they have, which I feel is very insensitive. As long as you're trying your best and putting yourself out there, even having a job, is a huge step that many others your age aren't taking," Luke said. 
The question of whether having a job as a high schooler is worth it is completely up to the individual. Each individual will deal with situations differently than others. Pacing yourself, not just throwing yourself into a job, is important to preventing burnout. Should those hours start affecting schoolwork, cutting back on hours is also important. Ultimately as a high schooler, it's up to the person to choose whether or not the work needed to put in is worth it.