The Inside Scoop: Udderly Delicious
Ice cream shop Udderly Delicious made a name for itself after a year of success in the community.
As the weather gets warm and the sun comes out, citizens of Atlantic form a line at the sweet spot, Udderly Delicious. Locally owned by Chris and Lynda Conrad, this ice cream shop showed early success and became popular throughout the community when it came to town last May. The establishment commonly referred to as "Udderly," is an enjoyable spot for all ages. The shop features a variety of ice cream treats as well as food items such as sandwiches, chili dogs, and a new special every day.
C. Conrad has been in the foodservice industry his entire life and thought Atlantic needed a "specialty business." He also works a regular job for a meat company. COVID-19 prevented the company from traveling to customers, so most work was done over Zoom, allowing C. Conrad to stay in town and get Udderly rolling. There are many struggles to being a new business owner in a small town. Udderly Delicious faces problems like; dealing with the cost of goods, employee issues, and making sure they are operating at the highest level possible.
On an average day, C. Conrad is at the shop around seven in the morning preparing machines and food for the first 11 a.m. shift. After preparation is done, C. Conrad goes home to do some regular work. He returns for the lunch hours because there is a new special every day. Following the rush, he gets a break to go home before coming back to the shop around dinner time. Usually, because the shop has been so busy during the day, both owners will be there cleaning up well after closing time. The shop continues to draw in more business as the weather gets warmer, so both Chris and Lynda are busy with their lives while maintaining Udderly.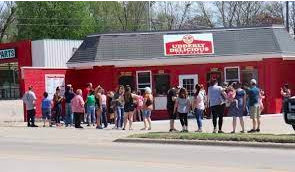 Atlantic's high school students took advantage of the new job opportunity, helping shop productivity tremendously. Currently, there are over 20 high schoolers and three college students working at Udderly Delicious. Due to employing so many high schoolers, C. Conrad makes sure to tell new employees, "If you're on time, you're late. And if you're 15 minutes early, you're on time." 
He tries to keep a "chill" environment while making sure the kids learn the responsibility of having a job. C. Conrad understands that most kids he employs are busy and still want to enjoy their summer. He makes an effort to be considerate and flexible with their schedules so they want to return the next year. His first employee, sophomore Laney Brosam, said, "It's a great place to work for the summer." Brosam explained, "We get a rush of customers around seven or eight at night, and sometimes we also get quite a few people to come during the lunch special." Brosam also stated stress can build inside of the shop during rushes because of how condensed the building is. Brosam recommends her favorite ice cream order, a strawberry cheesecake concrete.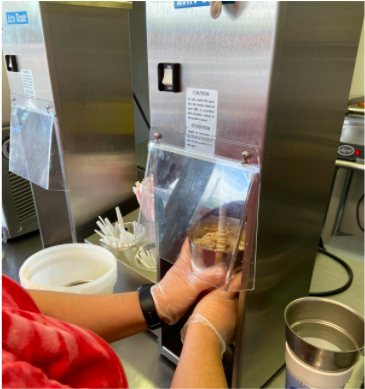 C. Conrad's goal was to start basic when deciding the shop's menu. The Conrads were on a trip in South Dakota and found a little ice cream shop with a menu they ended up loving. They got permission to use this menu in their own shop, which is what led to the well-known specialty concretes. This basic menu proved to be a winner at Udderly Delicious. Chris Conrad said, "We might bring a couple of new items to the menu next year."
Udderly Delicious has been a bright spot in a dark year, as now friends and family can enjoy a sweet treat in their own small town. Since the shop is outside, accommodations for COVID-19 are much easier to meet.