Spanish Semester Update
Both Spanish teachers at AHS layout plans for the rest of the semester.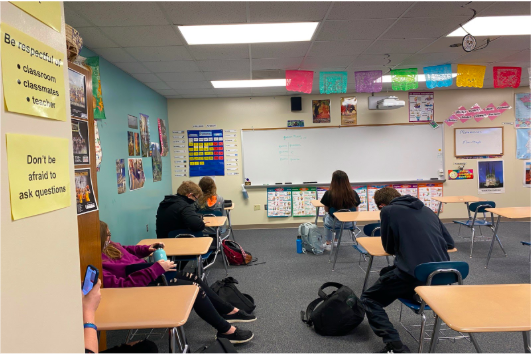 Students in Spanish class are working on improving their skills as they make their way through the school year. Trisha Nicewanger and Daniel Vargason are the Spanish teachers for Atlantic High School. Nicewanger teaches Spanish One, and Vargason teaches Spanish Two, Three, and Four. Both teachers are enthusiastic about what the second semester holds for their own classes. 
There are currently 81 students in Spanish One and 116 students in Spanish Two through Spanish Four continuing their Spanish education into the second semester. According to Niceswanger, "Some chose not to continue, and some did not receive a passing grade into the second semester. This is pretty normal for a year-long class. There will always be some that do not continue on." 
In the second semester, Nicewanger plans to cover a food unit, family unit, house vocab, learning how to describe something is happening right now, the near future, and the basic commands.
 Vargason plans to continue getting his classes caught up after spending time on material missed during the shutdown last year. Spanish Two is working on the preterite tense and Spanish Three is about to learn a few new tenses. Spanish Four is currently learning about immigration. 
Both teachers are looking forward to seeing students gain confidence in their speaking and understanding of Spanish. "I'm excited to still be teaching in person and glad to work with students in class. I really enjoy working with our students, and am thankful we get to be at school in person," said Vargason.