Senior Outlook of 2020 Cross Country Season
The seniors on the cross country team are looking forward to the rest of the season.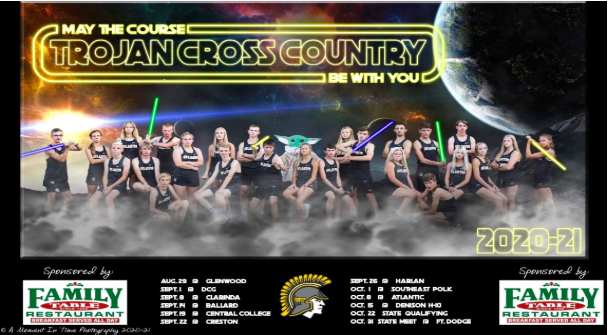 Laney Brosam, Staff Writer
October 5, 2020
With COVID-19 sparking in the world, everyone has had to adjust to life with the new "normal."The seniors on the cross country team have been figuring out how to adjust with their last year in high school and on the team amidst the pandemic. 
Senior Craig Alan Becker has been involved in FFA, 4H, Student Council, Track, Football, Cross Country, and Basketball throughout high school. After high school, Becker plans to go to college and major in exercise science, as well as run track. Becker's team goals include improving team chemistry, as well as having everyone give full effort with a judgment-free environment. "Qualifying for state is a goal we are all dead set on right now." To make it everyone needs a positive attitude and a powerful mindset. His personal goals are to place in the top ten at the state meet, run a sub 16:10, and do the "little things" right. Becker tries to focus on trusting the process and staying thankful. 
Senior Taylor McCreedy has been involved in swim team, basketball, FFA, National Honor Society, track, and cross country throughout high school. Her future plans include going to college to major in ag business and have a minor in animal science. "Our main goal is state, but to make it we need to stay focused and work hard," said McCreedy. She would also like to help build the underclassman and become closer as a team. McCreedy deals with pressure by remembering that "in the end whatever happens happens, and you have to control what you can control and leave the rest up to faith."
The Atlantic Cross Country team has been working hard to reach their goals as well as following Covid-19 guidelines to be able to stay out running and avoid quarantine. They all have received the opportunity to learn to do their part to be successful as a team and individually.