"Addams Family" Cast List Goes Up
The cast for this years fall musical "Addams Family" was announced on Sept. 10.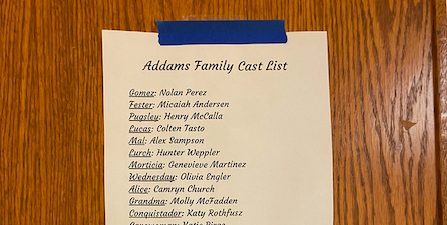 As the year approaches fall, the AHS musical, "Addams Family," is in full swing. The cast list dropped on the morning of Thursday, Sept. 10.
Playing Wednesday Addams will be senior Olivia Engler and her love interest, Lucas, will be played by senior Colten Tasto. Other couples in the show include Morticia and Gomez Addams portrayed by senior Genevieve Martinez and junior Nolan Perez and Alice and Mal played by senior Camryn Church and junior Alex Sampson.
Sophomore Micaiah Anderson will play Fester and junior Hunter Weppler will play Lurch. Seniors Henry McCalla and Molly McFadden will portray Pugsly and Grandma respectively. Other actors snagging a part include junior Katy Rothfusz and sophomores Katie Birge, Nina Welter, and Kylie Pulido who will play the roles of Conquistador, Cavewoman, Saloon Girl, and Soldier in that order.
These characters are backed by a chorus of Ancestors who will accompany them for many numbers throughout the musical. If you are interested in becoming an Ancestor in "Addams Family," you can email Mr. Pruisman or Mr. O'Donnell. Practices will start soon.
For more information about this year's musical checkout "Addams Family" Announced as Fall Musical.