Learning to Teach
Students at AHS spend time learning how to teach.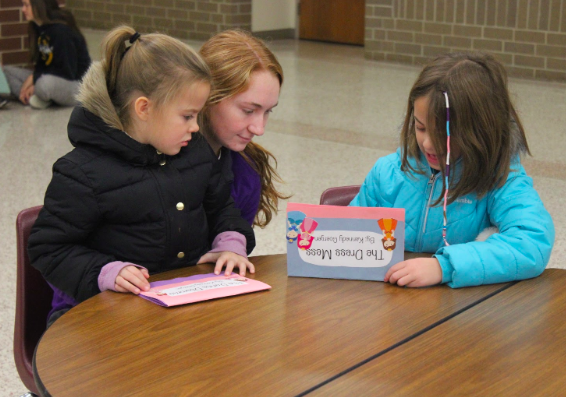 Many students at AHS are beginning to look towards the future, and with that comes college and a career. To help students make these decisions, AHS offers multiple opportunities. One of these opportunities is being a TA in the elementary, middle, and high schools.
A teacher's assistant, or TA, receives high school credit for working with teachers in other classrooms. Many students use this as an opportunity to test out what the teaching field is like.
Senior Emma Templeton travels down to Washington Elementary every Monday, Tuesday, and Thursday from 1 p.m. to 3 p.m. She is a TA in Jodie Allen's first grade class because she is thinking about going into elementary education. Seeing the students everyday is Templeton's favorite part of being a TA. She enjoys getting to "see them grow and improve."
Templeton recommends being a TA to her peers because "the kids look up to you and they love having high schoolers around. You can see what elementary education is like."
If students don't have time in their schedule to become a TA, but still want to get involved, they can look into volunteering. Junior Kennedy Goergen volunteers in Jodie Hogue's first grade class everyday. Goergen began volunteering because she was bored in her study halls and loves working with children. 
"My favorite part about volunteering is spending time with the kids and watching how much they learn throughout the whole year. It's crazy how far they've come from August, until now," Goergen said. She said she helps Hogue with whatever she needs, but normally helps the kids work on their projects or sight words.
Goergen said, "I would really recommend other students to volunteer even if they aren't interested in being a teacher. I want to be a nurse, but I just love spending time with kids and that's why I enjoy it so much."