The Science Behind the Garden Towers
FFA-produced lettuce has been used as part of the school lunch.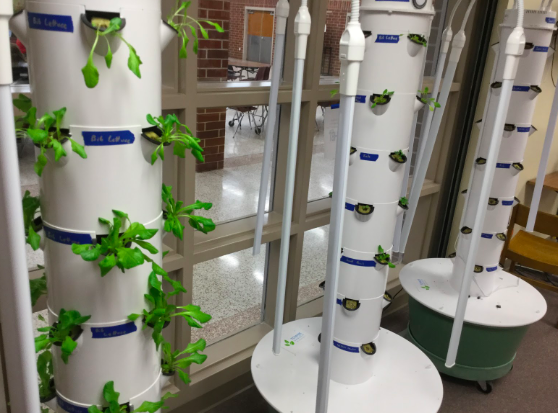 Three six-feet tall, two-feet wide contraptions can be found in the AHS media center. The garden towers are being used by the Atlantic FFA chapter to learn about alternative farming practices. These 100-pound machines go for about a $1,000 each. The garden towers were donated by Rolling Hills Bank.
They way these machines work is that there is a massive base in the shape of a bowl. After a pump is inserted, the bowl is filled with close to 20 gallons of water. The pump runs water up a tube, which sends the refreshing liquid to each individual hole–called a planting port–watering every plant that calls the tower home. There are 24 planting ports surrounding the garden tower. Net pots are attached, which is what holds the soil and seed. There are six columns on each tower. In each column, there are four net pots.
The tube sucks the water from the bowl up into the very top of the machine, which waters all 24 of the plants. Nutrients are mixed into the water, which help the plants grow. 
There are four ultraviolet lights that shower every inch of the garden tower, producing the necessary stimulant for photosynthesis to occur. They turn on everyday at 4 p.m. Every morning at 7 a.m. they turn off.
Lettuce, herbs, green peppers, and tomatoes, can all be found growing in the media center. It only takes about a month to grow. When the plants are harvested, they are used for the foods classes, as well as for the school lunch. The FFA-grown lettuce has already been incorporated in the lunch menu this semester. 
"It could be the future of our food here in the Atlantic High School, but we need a lot more than three garden towers," FFA advisor Eric Miller said.