Documentary AO Rises in Popularity
Hosted by English teacher Randall Simpson, the AO that pays homage to documentaries is still going strong.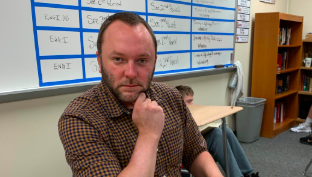 English teacher Randall Simpson created an opportunity for students to watch documentaries during AO. In room 406, Simpson invites students to study "the art of film." Every Wednesday, anywhere from ten to 15 students come to watch documentaries. "I like to keep it small so the kids can focus on the movie," Simpson said.
The documentaries included in this AO come from a variety of subjects. Simpson started out with sports, then moved to true crime and funny documentaries. In the future he wants to include more contemporary and less serious ones. When films are "too academic," fewer students go to the AO. Simpson also has to work around inappropriate scenes, and finds the whole process "very challenging."
In the future, he wants to find a better way to filter out students who come to the AO to do things other than watch the films. Even with these kids, he believes there is a huge portion of movies that kids our age would enjoy but aren't exposed to.
This AO has been in the usual rotation since 2018. He also plans to continue it into future years. He recommends that students who are interested in the art of film should attend.