Baseball and Softball Show Summer Success
A recap of the 2018 softball and baseball seasons.
Hang on for a minute...we're trying to find some more stories you might like.
For some students, summer is a time to relax and take a break from school and other responsibilities. For others, it's a chance to compete and show off their skills. Softball and baseball are a big part of many athletes' lives at AHS, keeping their summer schedules busy.
This past summer, each team had winning records with softball finishing 30-7 and baseball 15-13. According to head baseball coach Gaylord Schelling, the boys also had the best team batting average in 10 years at 0.318. Senior Nathan Behrends said, "It was a good season, we had a strong record but we didn't finish the way we would've liked at the end of the year." Schelling said the goal was to place top four in the conference but they ended up fifth.

The team also had multiple players earn all-conference and all-district spots, including Chase McLaren (First-Team All-Conference, All-District and All SWI in the World-Herald), Chase Mullenix (Second-Team All-Conference) and Noah Bruckner (Second-Team All-Conference and Second-Team All-District). Seven seniors graduated from the team, who Schelling said will be "missed greatly." He hopes to have another winning record next year, as he was happy with the results the season brought.
Graduate Cooper McDermott also signed to continue his baseball career at Dakota State University.
The softball girls also had a successful season, becoming the 2018 Hawkeye-10 conference champs and qualifying for state again. Head coach Terry Hinzmann said the team "overachieved a little bit" with the players that they had, considering many had to be put into different and new positions this season. Senior Karsyn Rush said each player got along well, which is essential to the workings of a team. Overall she thought they had a good season but that there is "always room for improvement."
According to Hinzmann, the goals of the softball team have remained the same for the last few years: win the conference and make it to State, both of which were achieved. The Trojans became the first team since 1999 to win the conference and qualified for State for the second time since 2016, defeating Osceola-Clark in the regional final. "We had good leadership with the seniors that we had on our team," Hinzmann said.
"
We had good leadership with the seniors that we had on our team."
— Terry Hinzmann
2018 graduates Alexis Handel and Ally Anderson each earned 3A 1st Team All-State, 3A West District and Hawkeye-10 First Team All-Conference spots. Handel also had the best batting average for the team at 0.500 and Anderson signed to play softball at DMACC. Sophomore Alyssa Derby earned 3A West District and Hawkeye-10 First Team All-Conference and Baylee Newell also earned Hawkeye-10 First Team All-Conference. Juniors McKenzie Waters and Reagan Pellett were named Second Team All-Conference and honorable mentions went to Rush and freshman Olivia Engler.
For the next season, Hinzmann still holds the team to those goals but said they would have to do it "a little differently" because they are going to have to replace some "very good players." His goal is to get the new players on the team to that ability level as quickly as possible.

About the Writers
Ashley Wendt, Editor
Ashley Wendt serves as an editor of AHSneedle.com this semester. She brings a passion for stories, an eye for detail, and a drive for improvement to her role. In addition to editing, Wendt frequently writes content for the site.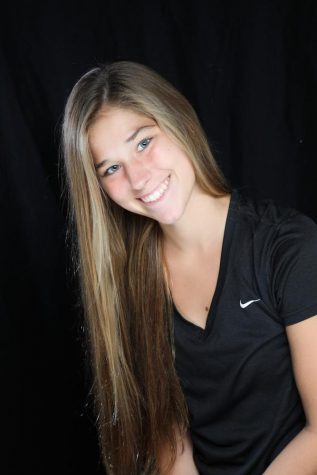 Erin Wendt, Business Manager/Editor
Junior Erin Wendt is one of the two business managers for the AHS journalism department. She also occasionally writes stories for AHSneedle, and her favorite stories are the "Getting to Know the Class of 2017" articles. Wendt said she loves the "independence" of journalism and being able to choose what you do, like broadcasting or...