Busy Week Ends in a Win for Girls' Soccer
After a string of losses, the Trojan girls have put their first win on the board.
Hang on for a minute...we're trying to find some more stories you might like.
Due to two reschedulings, the Trojan girls' soccer team played three games in a row, May 7-9: Monday vs. West Central Valley, Tuesday vs. Creston and Wednesday vs. AHSTW. West Central Valley ended in a loss with a score of 4-1 and Creston with a score of 0-2. However, things turned around for the girls against the AHSTW Lady Vikings.
Wednesday's game began with the Trojans down 0-2 and about 17 minutes left in the first half because the game had actually started on May 1 but was cut short due to weather. Junior Alyssa Ginther scored the first goal for the girls at the start of the second half, beginning the comeback for the Trojans.
Sophomore Kenzie Waters put the second goal in the back of the net from a corner kick by senior Olivia Hemphill, who also assisted Ginther for one of her goals."We preach just hitting the ball and it wasn't the prettiest but it went in," assistant coach Daniel Vargason said about Waters's goal. Sophomore Kayla Mauk is also credited with an assist to Ginther, who scored the final goal for the Trojans with around 25 minutes left in the half.
The Lady Vikings were held off for the rest of the game with an impressive save by sophomore Corri Pelzer in the last 10 seconds of the game, running out for a one-on-one against the Vikings' leading scorer, Jordyn Holtz. Pelzer pulled it off and the Trojans got their first win of the season.
The girls are back in action Monday, May 14 against the Riverside Bulldogs.

About the Writers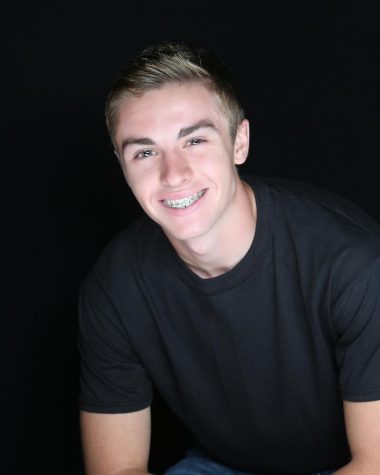 Dillon Sonntag, Editor
Senior Dillon Sonntag has been a part of the journalism team as an editor for three years. Most of these stories consist of sporting activities. Sonntag said his favorite story he's  written so far is "Meet the Freshman Basketball Team" when he was a sophomore. He enjoys journalism because of the "freedom to do whatever you want."
Sonntag said he looks up to 2017 AHS graduate Kyle Nelson because he is "a positive role model, and he is always trying to make me a better person." He also likes fellow senior Ben Renaud, who he claims to be his best friend. If Renaud or any of Sonntag's friends had to describe him, Sonntag believes they would say an athletic and that he's an "overall good guy to be around." If he had to describe himself though, he would say, "I'm responsible and trustworthy."
Sonntag is currently involved in track, football, and journalism. When not participating in extracurricular activities, he pictures a perfect afternoon as "sitting at home watching college football," preferably the Iowa Hawkeyes. Although he prefers sitting at home watching sports, Sonntag still loves participating in them, saying, "I would never give up my athleticism." Along with his athletics, he would never want to give up his bed.
If there was one food he had to eat for an entire year, it would be steak. Steak isn't the only food he likes though. "Over the summer I baked some cookies," Sonntag said. Other than cooking, another talent Sonntag wishes he could acquire is to "read people's minds."
Sonntag said, "My wallpaper (on phone) is a photo of me standing on the football field. It shows patriotism because of the flag in the background, and inspiring because of the angle and lighting it's taken at. It's a really cool pic." The photo was taken by editor Taylor Hansen. One thing many people don't know about Sonntag though is that "in 6th grade, my duplex got smoked out by my neighbor's house fire."
Profile written by: Tyler Moen and Emma Templeton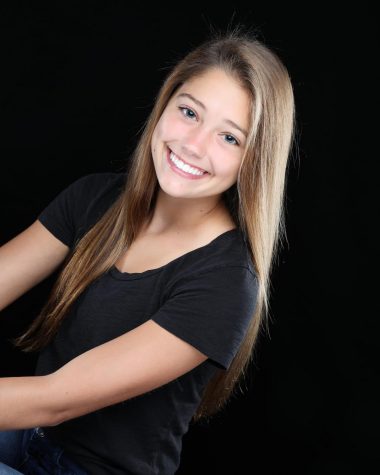 Ashley Wendt, Lead Editor
Journalism is a family affair for the Wendts, as Ashley Wendt's siblings got her involved in Journalism. Her brother Trevor was the first to join and he was the producer of Eye of the Needle during the 2017-18 school year. Wendt's twin sister Erin was the next to join during her sophomore year. Wendt is one of the lead editors of AHSneedle, so her job is to assign stories to the reporters and edit the stories they write. Her favorite part of journalism is "seeing the finished products" and what others can do. Her most memorable moment in journalism is when she went to a summer camp at Drake University, where she attended a web design class that she thought was "super helpful." In her free time, Wendt enjoys going on walks with her family and riding her horses. She is also out for cross country, starting her running career in seventh grade. She said she joined because her mom ran and she "wanted to be just like her."