Getting to Know the Class of 2018: Kalob Flory
Senior Spotlight featuring Kalob Flory
Hang on for a minute...we're trying to find some more stories you might like.
Kalob Flory has always been musically inclined, so it was no surprise for him to find his hands on a guitar and instantly start teaching himself to play. "My uncle and cousin always played during family events and I thought it was cool," Flory said.
During the summer of 2017, Flory played in the Exira talent show along with freshman Genevieve Martinez and sophomore  Bradley Dennis. They performed numerous songs including Jason Mraz's "I'm Yours" and Sublime's "Santeria." Flory said he was "not at all" nervous because the audience was pretty small, but the event was still fun.
Guitar playing isn't the only fine arts area Flory is interested in. He has also joined the AHS show choir for the first time his senior year. Flory became intrigued while playing guitar for some of his senior friends during Show Choir Blast acts last year, which came to be one of his favorite high school memories.
Besides music, Flory has also been a part of the tennis team. "My uncle Scott told my dad that he looked like this tennis player on TV (Rafael Nadal), and then me and my dad started watching him and we tried playing it," Flory said. He has been on varsity for two years and describes the experience as "pretty lit." His favorite thing about tennis is the concept of teamwork. "We all have the same love for the game which makes us all push each other harder in practice and during games," Flory said.
When he's not on the court or on stage performing, Flory likes to spend his free time watching movies such as his favorite, "Apocalypto," and he also enjoys watching documentaries about WWII with his dad.
Flory's plans after high school include either flipping houses or becoming a psychologist. He said he would like to flip houses "because you can make bank." He believes he could be a good psychologist because he is "good at listening to other people's problems."

About the Writer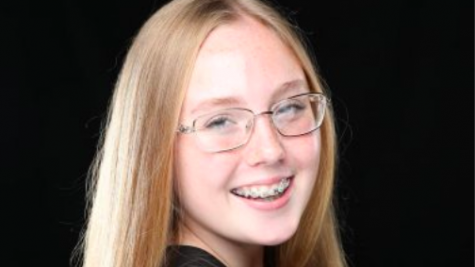 Alyssa Brockob, Editor
Alyssa Brockob is an active member in the journalism department for AHS, acting as an author and editor for the AHSneedle website. In the near future,...