Graduation Incentive Encourages AHS Students to Volunteer
Chamber of Commerce talks to freshmen about Silver Cord opportunities.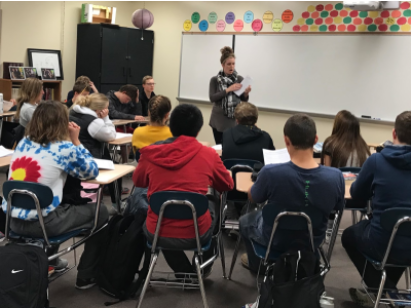 Hang on for a minute...we're trying to find some more stories you might like.
The Silver Cord Program is a somewhat new opportunity here at AHS. It was started by the Chamber of Commerce only 3 years ago. The purpose of the program is to "encourage volunteering within our community," guidance counselor Michelle Huber said. Students must complete a minimum of 200 hours of volunteer work by the end of their senior year to graduate with a silver cord around their neck at commencement. They will also be eligible for a $500 scholarship given by the Chamber.
To be eligible to receive the scholarship, students must complete all necessary volunteer hours and write a 1-2 page essay outlining what they learned about themselves through volunteering. After a student has met the following criteria, the Chamber of Commerce selects one senior to receive the scholarship.
However, according to Huber, there are some rules that go along with the program. For instance, students may not count paid work as volunteer hours. They also cannot "double-dip" their hours. This means a student may not volunteer for a different program and count those hours toward Silver Cord. It must be one or the other. Lastly, students are not allowed to complete more than half of their hours in one place.
Last Thursday, Programs Director Ashley Hayes and Executive Director Bailey Smith of the Chamber of Commerce came to AHS to talk to the freshman class about this opportunity. "It's beneficial for the students for several reasons. Colleges look on your applications for volunteering, so if they see you have been giving back to your community, they may put you up to the top of their list," Hayes said. Adding to that, Hayes said community members love to see younger people "actually doing something within the community."
After listening to Hayes and Smith, freshman Kennedy Goergen said, "I don't think I'm going to do the program mostly because only one person gets the scholarship. I don't feel it's worth putting in 200 hours when I'm so busy already." Huber encourages students to "at least try to get involved because 200 hours or, 50 hours per year, is not hard to do."
On the other hand, freshman Collin Mullenix feels the program is "an easy way to put money toward a college fund." Senior Emily Saeugling said she wanted to get involved when she was a sophomore, but was involved with too many activities already. "I think it's a really cool program and a great way for students to serve others." 
"
"I think it's a really cool program and a great way for students to serve others.""
— Emily Saeugling
Last year, Danyelle Hass-Hunter was the lucky AHS student to receive the scholarship. According to the 2017 Javelin, Hass-Hunter volunteered with the police department and was escorted by two officers on senior night for soccer. Today, she is enrolled in the Iowa National guard and is stationed in Missouri.
If anyone is interested in finding volunteer opportunities that will count toward Silver Cord Program hours, visit the Chamber of Commerce website to see a list of all available opportunities.

About the Writer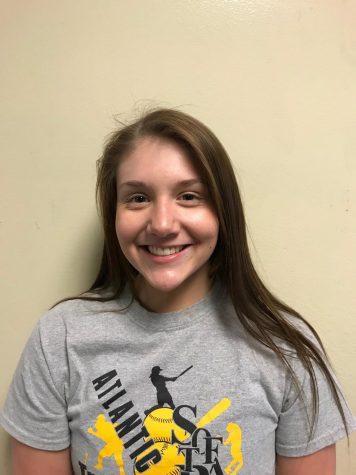 Reagan Pellett, Journalism Production Student
Reagan Pellett is in her first year of journalism and enjoys taking pictures and editing videos.  Pellett's favorite part of journalism is "learning new skills and being around everybody in the journalism department."  She was awarded first place for her slideshow of wrestling pictures as well as getting an honorable mention for her basketball slideshow...