Getting to Know the Class of 2017: Emily Hohenberger
Senior spotlight featuring Emily Hohenberger.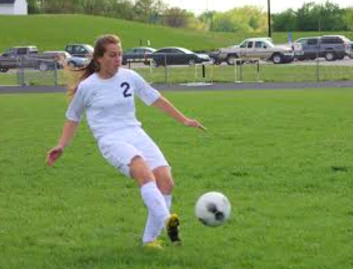 Emily Hohenberger has played basketball and soccer all four years of her high school career. She has also played volleyball, and ran on the track team in middle school.
Hohenberger is involved in other activities at the high school such as National Honors Society, AHS Fuel, and Student Council. "I really like Student Council and AHS Fuel." Hohenberger said. She is most proud of the grades she has been able to earn throughout high school. Hohenberger is planning on attending the University of South Dakota and study dental hygiene.
During her freshman year of high school, she decided to try out for the girls' soccer team. "I had never played it before and my sister did it her freshman year, so I decided to try it," Hohenberger said. At her first soccer practice that year, she thought it was fun and scary even though she didn't know what to do. She is looking forward to having fun her senior year and hopefully earning one of the captain spots. Hohenberger has played the positions of outside defender, sweeper, and has even obtained some offensive experience by playing forward on the JV team. Her favorite year of soccer, excluding her senior year, was either her sophomore or junior year. She chose her sophomore year to possibly be one of her favorite years because the team had the best record that season and she was "getting into the swing of things." Her junior year was a choice because she had a lot of fun with the freshman players.
Hohenberger has been playing basketball since she was in third grade and continued to play it throughout her high school years. In high school, she played the position of a guard on the team. She has been looking forward to being one of the seniors on the basketball team and accepting the role of being a team leader. She loves the aspect of the team working together to accomplish a goal, and the aggressiveness of the sport makes it enjoyable. Spanish teacher, basketball coach and soccer assistant coach Daniel Vargason is one of the teachers at the high school who has impacted Hohenberger the most. "He is really outgoing and helped me get involved in high school, and is just a fun person to be around." Hohenberger said.