Jedd Sherman Joins AHS
A past principal, Sherman returns to teaching after controversies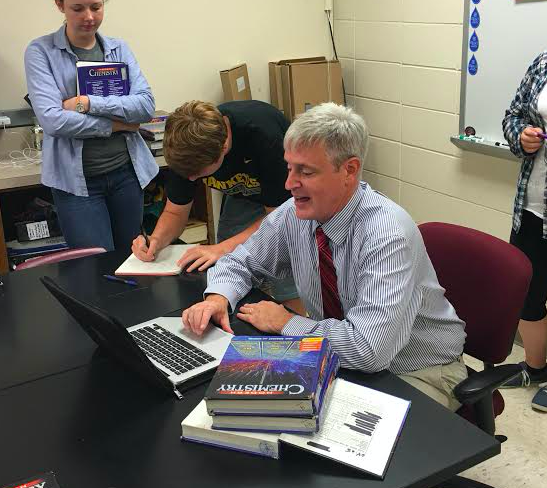 New chemistry and physics teacher Jedd Sherman comes to AHS after a year of teaching at St. Albert's in Council Bluffs. Before that, Sherman served as principal at Walnut, Spirit Lake and Red Oak. His path back to the classroom has been rocky, drawing controversy when he clashed with administration at both Spirit Lake and Red Oak.
Sherman was born in New York City. In New Jersey he met his wife Kara, who is from Iowa. They have three children: Jared, Abagail, and Eva. Sherman received his college degree in Connecticut. He has held roles in schools varying from  classroom teacher to administrator. Sherman has experience teaching in nine subjects, including Consumer Science, Intro to Physical Science, Earth Science, Ecology, 6th-grade Life Science, Biology, Anatomy and Physiology, and Chemistry Physics.
The process of hiring Sherman and other new teachers is a long one for principal Heather McKay. McKay starts with publishing a notice on teachiowa.gov that expresses what type of teacher AHS is looking for. The forum normally stays posted for around a month. If it's a harder position to fill, like chemistry, McKay will email all available candidates and let them know there is a position open and invite them to apply. If there are possible candidates, McKay will then check the Facebook and Twitter of the possible teacher. If there are no "red flags" there, McKay invites them to an interview.
When searching for Sherman's name on a Google search, there are some red flags that emerge. Sherman was dismissed as principal from Spirit Lake and Red Oak. Both schools' school boards voted Sherman out, despite the large amount of backing Sherman had from students, parents, and the rest of the community. In Spirit Lake, students protested along the streets holding posters and signs reading "Sherman rocks" and "Honk if you support Sherman." In Red Oak students created hashtags like "Save our Sherman" which abbreviated to "#SOS."
According to KETV, Sherman was dismissed from Red Oak because he "Failed to develop and maintain a satisfactory working relationship with the superintendent and the school board, other administrators of the school district, outside consultants or auditors, teachers, and failed to meet the expectations of the board and the superintendent." Sherman said  he had an unstable relationship with the superintendent because Sherman "knew things" that he said the superintendent "didn't want out." Sherman made complaints about a "handicapped student in a wheelchair who had to go to a defunct, derelict bathroom that wasn't appropriate. He had to go there because no other bathroom fit his wheelchair." Sherman also made complaints about multiple bullying incidents where he said that teachers would leave the classrooms where students were being bullied. "I opened my mouth, and ticked him (the superintendent) off, " said Sherman.
AHS Needle made numerous calls to ex-Red Oak superintendent Terry Schmidt. He did not return our messages inviting him to comment.
At the time of his dismissal from Red Oak, Sherman fought for an open meeting session because he had "nothing to hide" and wanted to open the dispute to the public. He was never put on the agenda and an open session never happened. Three days before Sherman would have presented his case in front of an administrative judge, Sherman agreed to a $100,000 settlement that  required him to resign.  A year after the departure of Sherman from Red Oak, Schmidt and three board members also left. Schmidt and one board member resigned but the other two board members were voted off.  
Mrs. McKay stands by her decision of hiring Sherman saying "I do think that he is passionate about kids, about making a difference for students, and he loves science." McKay said that Sherman has been spending long days at AHS preparing for the school year, and that he has been collaborating with previous chemistry teacher Nancy Jenkins to prepare for the school year. "I don't try to judge people on their past. Everybody needs a fresh start sometime. I think he's up to the task," McKay said.
Sherman wants students in AHS to know that he isn't an expert in chemistry or physics but he will do his "very best." Sherman said that he's "hardworking and dedicated to students." Sherman said he loves Atlantic and is excited for the upcoming school year.
Students are also excited for Sherman's classes. Junior Sydney Bean said, "He makes connecting with his students a priority and has a very fun approach to his lessons. He has made a very positive impression on every student I think. His class is definitely one I am looking forward to." Junior Maddie Nelson said, "He's very fun and interesting to listen to. I've never had a teacher like him!" And senior Bailey Schildberg said that Sherman "seems very straight forward and wants to get things done."
About the Writer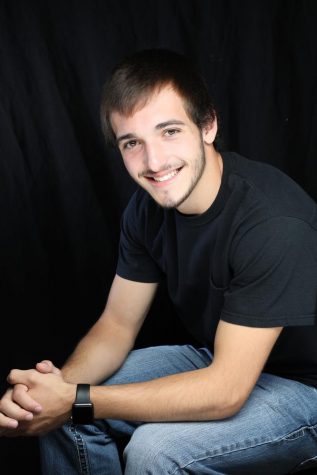 Zeke Whetstone, Tech Editor
Zeke Whetstone, also known as "dryrock," is a family man that loves spending time on the beach with his best friends and family. He looks up to his...