Paperbacks in jeopardy?
Hang on for a minute...we're trying to find some more stories you might like.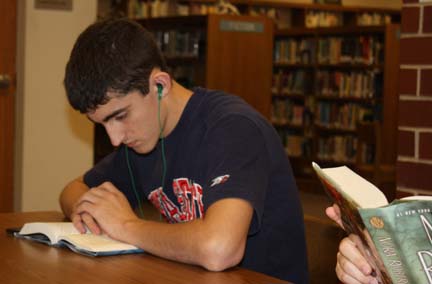 by Behka Koontz
Reading books has been a part of everyday life since the invention of the printing press. However, technology has changed what we perceive as reading books.  Books aren't only physical pages and words, but also virtual pictures of pages with writing and words.
There are many ways to access virtual "books."  Some devices are solely made for reading virtual books such as the Kindle electronic (cost ranges from $139 – $300+).  There are also devices that offer virtual books as an application, such as the IPad ($499+).  On both these electronics, users pay for the book then the book is stored on the device so users can read the whole book again and again.  Individual electronic downloads of books cost about the same as a paperback version, or slightly less.
With the advances in technology a question arises, will books be around in five years?  The future of printing houses is already in jeopardy due to newspapers moving online, but with the addition of virtual books the survival of the paper industry is hanging in the balance.  Could it be possible that the paper industry will be a thing of the past due to the creation of technology?  Only time will tell.