Tye Nielsen update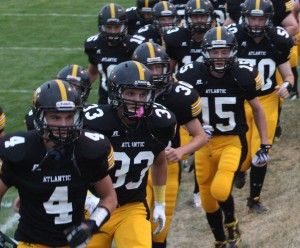 By Shelby Tichota
A key player on the AHS football team was injured on Tuesday night, Sept. 4, at the JV game against Carroll. Trojan #33 Tye Nielsen incurred a broken leg unexpectedly. "I was running the ball and a Carroll defensive player's helmet drilled me in the right knee. I knew it was broken instantly," said Nielsen. At the hospital, Nielsen found out that his femur was broken.
During surgery on Wednesday, the doctors put a plate and a few screws into his leg, said Nielsen.  "The plate may have to be removed at some point," he said. Nielsen described his pain: "They have been giving me a lot of different pain killers; most of the time it doesn't hide the pain."
Nielsen will be able to come back to school at some point but he is not quite sure when that will be. On Thursday, when asked how this affects his day-to-day life, he responded, "So far all I've done is lay in bed, but I have physical therapy later on in the day."
Nielsen is also involved in track but will not be able to run this year or finish playing football. "I will not be able to run track. And for football it just depends on how it feels around that time next year."
Coach Nick Ross said, "That's the worst and scariest part about football." Ross said the coaches think about Nielsen a lot.  He is glad for Tye's sake that it is only his junior year, instead of it being his senior year. Ross mentioned that Tye puts in so much effort, so it was especially hard to see him get injured.