AHS students build a garage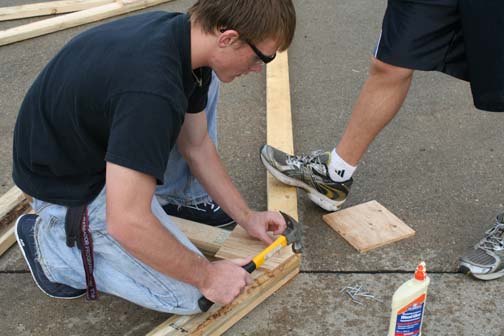 By Morgan Beauchamp
AHS students are building a garage for a teacher.
Roger Warne's first period Manufacture Tech class is building a garage for school psychologist Judy Kay.
The class is building the garage in the school shop. They will then transfer the garage to its destination in pieces, and they will assemble it there.
The garage will take four to five weeks to build. Building the garage will cost the school nothing because Kay is paying for the expenses.
According to Manufacturing Tech teacher Roger Warne, "It's going to be really cool."
Senior Matt Kern said, "It's the experience of a lifetime.  It's a good experience for the kids."
Junior Gunnar Blum enjoys the project. "It's a fun activity and it helps the kids learn how to build."
Tyler Doll agrees: "It's fun, hands-on work that gives good experience."