Coach Schelling Makes a Comeback
AHS baseball players prepare for a new coach this season.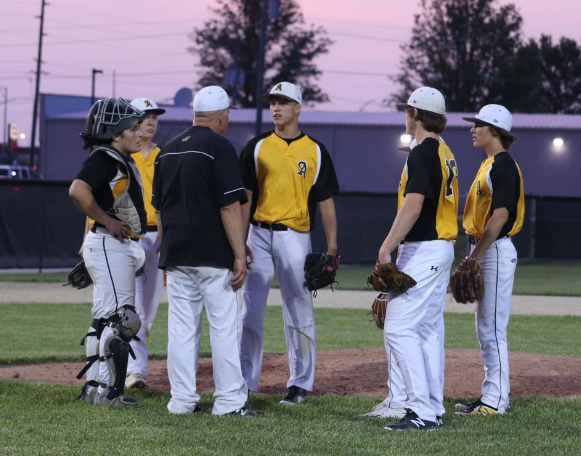 The 2023 baseball season in Atlantic is welcoming back Coach Gaylord Schelling to replace Coach Joseph Brummer. Brummer has decided to resign as head coach of baseball and many are wondering why.
According to Brummer, he feels like he doesn't give the baseball team everything he could be giving. He is also the head football coach and with baseball and football being back-to-back, it got hard to manage both. "I tried to make it work but felt I was doing the baseball athletes an injustice when my heart is truly in football and that will always be my priority," said Brummer. Even though he is no longer head coach, he is still helping out Schelling whenever he is needed.
Schelling came out of retirement to step up and coach the baseball team. He said he took the job because he has the experience to do it and he wants to give back to the community. "They have been really good to me throughout my years," said Schelling. Schelling started off in North Polk as a baseball coach for six years and then a year later coached baseball in Tri-Center. He also was the head baseball coach in Atlantic for two years with records of 14-16 (2017) and 14-13 (2018).
Schelling can't wait to start practices in the next few weeks. He plans to focus on the basics with the players "I'm big on fundamentals," said Schelling. He also plans to work with the players and make "subtle changes" to their hitting, pitching, and throwing.
A lot of the players are excited about something new. Junior Jaice Larson thinks it will be good for the program, and said, "Schelling has always been a big supporter of baseball and been around for a while."
"
Schelling has always been a big supporter of baseball and been around for a while.
— Jaice Larson
Sophomores Tristan Hayes and Reid Woodward both think that his past success and experience will benefit them. Hayes said, "I am excited to learn from him."
The seniors are looking forward to playing their last season of baseball with him. Senior Jayden Proehl said, "Coach Schelling has always been someone I've looked up to, so having him as my baseball coach has been quite exciting. It will undoubtedly be an emotional season because this is my final year of playing baseball with the teammates I've had for the past 11 years. Since this is our final time together, we are hoping for the greatest this season and will work really hard to qualify for state and make a run."
Similarly, senior Jackson Mclaren said, "We have big plans for the season. Coach Schelling knows his stuff and we're pumped. I have a lot of respect for both coaches and we're excited to see where the program will go."