The Spring Play is Underway
Eight Minutes Left will be performing at AHS on March 10, 11, and 12.
Senior Katie Birge takes the stage for her final performance in Eight Minutes Left. Birge has been a part of AHS Drama since her freshman year, participating in Little Shop of Horrors. She enjoyed that role, although it was a smaller one. She has since participated in The Addams Family, The 25th Annual Putnam County Spelling Bee, and Spongebob the Musical. Birge has enjoyed acting and performing in front of people because it helps to get her out of her shell, and because "there's more to acting than what meets the eye." This year, Birge has a main role in the play, portraying as The Observer. This character is not so much a person, as they are "looming," and "portraying death as an inevitable." She enjoys this role because there are only two others in the play that are acknowledging her as death, that being Brady Wagner (Patterson), and Henry Knudson (Ursula). Overall Birge has enjoyed being a part of theater at AHS, and although she is sad to leave the stage, she has enjoyed the way each performance has helped her grow as a person and make new friends.
"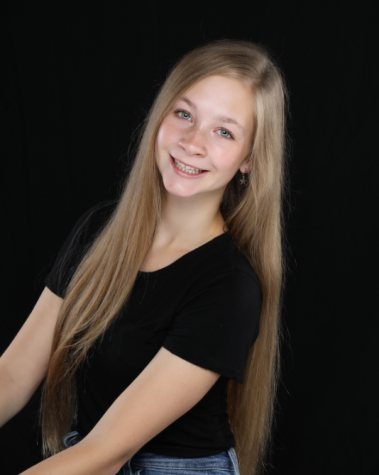 There's more to acting than what meets the eye.
— Katie Birge
Art teacher Elizabeth Herrick is captivating an audience with her direction of this play. Herrick has been a part of the arts for years, having acted, directed, and worked on set design throughout her college career. After the departure of Brandon Baggett, Herrick decided to jump on the opportunity to run the play, and soon chose Eight Minutes Left. She chose this play with the intention of being able to "divide and conquer" to tackle the individual scene work, as well as the dramedy that this script entails. Eight Minutes Left features 12 different scenes, each with different characters portraying their reactions to the impending apocalypse, and showing "so much whiplash between happy and sad moments." Furthermore, Herrick had chosen this play because of the personal connection that everyone would be able to have with this performance from covid, saying "We don't know the ending, but we all know the ending in some way." She would recommend that others come and watch the performance on March 10, 11, and 12, for its easy immersement, and connectivity that is felt for the characters.