Leaving a Mark
Students sign their name on the walls of the middle school to "leave their mark."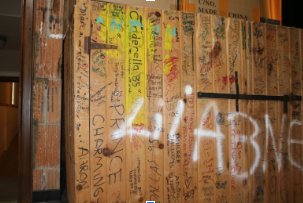 For many decades people have been leaving their "mark" in the Atlantic Middle School auditorium. If you participated in a musical in your 7th-grade year of middle school, most people wrote their names on the wall after. Is your name on the wall? 
Tory Dultch, a 4th-grade teacher at Schuler Elementary wrote her name on the wall. She said, "I do remember writing my name on the wall, I'm not sure where though." Dultch thinks it's "neat to be able to go back and look at all the people who created the history of the auditorium." Dultch was a part of the Jungle Book performance in her 7th-grade year. "I played the part of the elephant," she said. She remembers at the first performance one of her classmates "pulled off my tail and started swinging it around, Mrs. Thompson was not impressed." 
Junior Neveah Duranceau participated in the 7th-grade musical production of Mary Poppins in 2019. She said, "I know I did write my name on the wall, at the time it was definitely just for fun." Duranceau feels like it's a "part of history now" and that "it marks everything going on backstage." Duranceau had lots of fun during the play as a chimney sweep. She said, "lots of jokes and memories were made that people still bring up to this day." 
Freshman Neveah Fewson also remembers writing her name on the wall during her musical "Moana." She played the part of Moana's mom, "Sina." She wanted "younger people to see my name so they could see how long the musicals have been going on and how many people contributed to them throughout the years" She wants to go back and look for her name sometime in the future to see "how many names have been added to the wall."  Fewson hopes that people carry on the tradition because "it shows how fun and exciting the musicals were, even if they were in the past.''
This tradition has been going on for many years. When you were in middle school, did you write your name on the wall?