Old Trends Are Making a Comeback
Many students will notice old styles becoming popular again.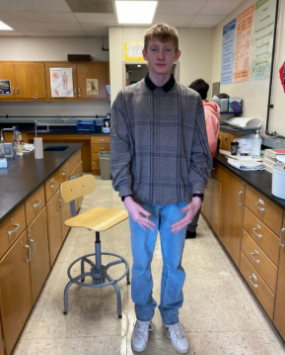 Many students have seen old styles coming back into new trends and fashion today. Some of these styles include bell-bottom jeans, cowboy hats, scrunchies, crocs, flair pants, "mom jeans," mullets, chunky sneakers, crop tops, leather jackets, hair clips, goth aesthetics, and platform boots. Many of these styles were popular in the 80s and 90s. Some students said "bell bottoms and hippy styles" are back and these were also popular around the 80s.
"Mom jeans" are also another really popular style that was around in the 90s and started to come back around 2019. While throwback trends seem to have reached a new level recently, the fashion industry's obsession with the past is not really new.
AHS sophomore Mariah Hadley said, "one style I like [is] crocs and scrunchies." These styles were very popular for her in seventh and eighth grade. Other students have said that "mom jeans" have been very popular to wear with crop tops and converse, which were an older style that has come back and is very popular today. These styles are seen a lot in high school and starting to spread into the middle school as well. Students at AHS wear a lot of styles from the 70s and 80s, and many students enjoy these old styles and have made them very trendy while others follow these styles as new trends. 
Other students said a very popular trend that they really like to wear is bell bottoms. They wore these jeans almost every day or sometimes mix them up with flare pants which were very popular back in the 90s before skinny jeans started to take over. Another interesting type of pants many students have mentioned is cargo pants. Cargo pants were a popular fashion trend in the early 2000s. They have enjoyed renewed popularity in the 2020s as part of the 'Y2K' fashion trend, where 2000s fashion trends have been brought back into fashion. Every day there's a new style/trend from the past that is making its way back into the community.