Far From Home
Many students at AHS have moved here from different places across the country.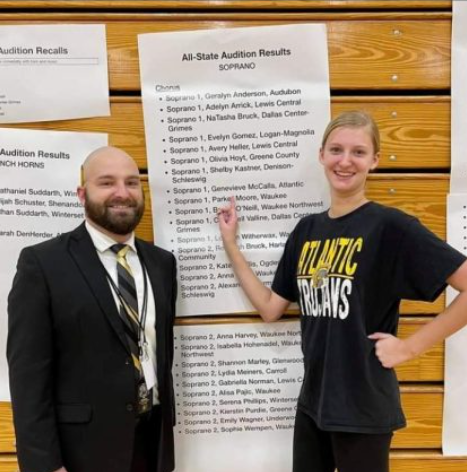 About 63% of high school students are not from where they are currently. Most students like Brianna Atkins, Lukas Macias, and Genevieve McCalla, are not from Atlantic and have moved a far distance just like some of the other students in our school building have. 
Atkins moved from Haryana, Indiana, and some other places when passing through Chicago before coming to Atlantic. Something she really loved when moving to Atlantic was "how all the people were so welcoming." When Atkins first moved to Atlantic, she noticed it was a "very small town," and that it was "beautiful around Christmas time." Atkins loves "the people, and how nice they are to everyone." The reason she moved to Atlantic was because she had a lot of family in the area. She said she "loved how there were so many traditions and just a variety of things that drew attention." A message that Atkins has for people who are newcomers from other places is "try new things and just be who you are, don't let other people change who you are." 
People who have moved a far distance like Macias, can all relate to how he felt when moving from Los Angeles, California to Atlantic. Macias mom was originally from Atlantic and wanted to come back to be connected again and be closer to family. Something that drew attention to Macias was "family, and it was a small town, nothing like the city where you can get shot." Macias would always go to his grandmother's place when they had moved to Atlantic and hardly wanted to leave her because it was his "comfort zone." Macias wishes there were more things to do in Atlantic because California has so much more to do, especially for younger people. Some advice he wants to give is "don't do drugs, and there [are] a lot of different groups in our school so just find one that you fit into." 
A student from Wayne, Nebraska wants to tell her story to other students and how she felt at the time of moving from home. McCalla's family came here to Atlantic for job reasons. Something that drew her attention when moving here to Atlantic was "it's a small town and quiet, and all the nice people, and I was so happy to see snow." She thinks that Atlantic is "nice, and it was a bit of an adjustment, but the town is really hilly and full of nice people." When McCalla first came here, she was feeling scared and had a bad experience the first time, and it was an adjustment from before. The first thing McCalla did when she came here to Atlantic with her family was "going to Pizza Ranch." It had been years since they had seen one, so they decided to eat there and have a "great time." Something that she wishes she could have changed when moving here was that she would have made her own friends instead of being assigned one by a teacher. McCalla's advice she wants to give is "don't be afraid to ask for help, teachers are nice and helpful."
One person that was not mentioned at the beginning of this story is Principal Heather McKay. She is originally from Nebraska, but her latest move was from Clarinda. While she was there, McKay worked at Clarinda Academy, and then, later on, she came to Atlantic for a new job. Some things that drew her attention were the "school system, YMCA, Six West, which was an ice cream and hamburger joint," which reminded her of another place from her old area. "All the people were the other reason that I loved it here," she said. When McKay was moving here, she said "it was stressful, scary, and I was thinking, is it the right decision to make, and would I fit in?" 
These are just a few of the people in our school district who are not from here, and there are many more. There were 70.2% of people who said no, they are not from Atlantic, and 29.8% who said yes, they were originally from Atlantic. People may be from Atlantic, but they have also traveled to many other places, and there are people who have moved here to Atlantic from somewhere close or far away. More people visit and leave places, regardless of their location. 9.8% of Americans move each year, and 15.3 million American households with an average of 2.3 family members move each year.