Student Council Spreading Holiday Cheer
Student Council has a lot planned for this month.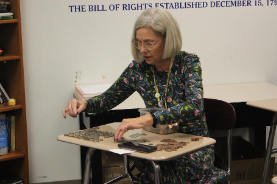 The Student Council is very delighted with the outcome of this year's Loose Change Day. Student Council President Edria Brummer stated, "This is the first time we've adopted a family since 2019 doing this drive." This year, the high school collected a total of $356.95 for the Loose Change Drive, with Ms. Esbeck's 3rd Period Government class bringing the most change. They made a total of $109.44. Ms. Berryhill's 3rd-period Journalism 1 class brought in a total of $85.51. Third, Mrs. Hobson's 3rd-period Earth Science class brought in a total of $55.51. One family has already been selected to be adopted, and Ms. Rose is helping with getting in contact with other families. The Student Council's goal this year is to have selected a total of three families to "spread the joy of the season." The families adopted this year will receive toys and items that match their needs this holiday season.
"This year is full of a lot of firsts," said Brummer. The Student Council is also hosting a "Holiday Movie Night" at the high school on December 3 at 8 pm following the firework show downtown. The council will be showing the movie "The Dog Who Saved Christmas." This event is a free-will donation, and all proceeds will also go to adopting a family. The Student Council encourages you to "bring a chair, a cozy blanket, and your friends." There will be popcorn, hot chocolate, and pop for sale at the movie night. Brummer also is the student representative for the Atlantic City Council. "When I brought this to the City Council, they were enthused about it. There are so many businesses and people in the community who are eager to help."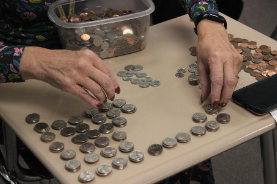 "We have a lot coming up for the month of December," said Brummer. Another event Student Council has planned is Candy Cane Grams. Candy Cane Grams, made popular in the movie "Mean Girls," will be sold from December 12 through the 15 before school and at lunch. Brummer's connection with the City Council led to the idea of donating the money made to "Shop with a Cop," put on by the Atlantic Police Department. As Brummer said, "It's nice that Candy Cane Grams is an annual event for the student council and we get to use the money to spread the holiday cheer."