How the #1 New York Times and International Best-Selling Author is Impacting Students at AHS.
Colleen Hoover has many Students Raving About her Books.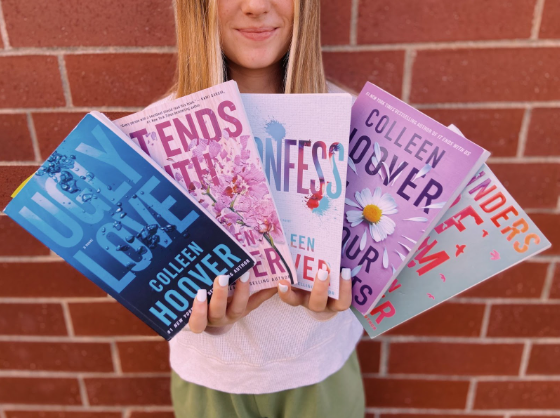 It Ends With Us, Verity, and Ugly Love are the books that the students of AHS are raving about. Famous author Colleen Hoover has written 22 books and is releasing more to come. The sequel to the well-known and trendy book It Ends With Us will be coming out on October 18th. It Starts With Us is open for pre-order now. 
With her book sales and popularity on the rise, author Colleen Hoover has the people of the well-known app TikTok to thank. #Booktalk was used to bring publicity to this author and her bestselling books.  Books such as It Ends with Us "help bring understanding to concerns in relationships that I have never dealt with," said senior Reese DeArment.
Colleen Hoover wrote It Ends With Us in 2016 but has just recently gained popularity. January of 2022 was when her books started to climb the charts. "Ugly Love is the book that opened the door of reading for me," said senior Edria Brummer. Ugly Love is ranked fourth on the top-selling books in August of 2022 along with six other books written by Colleen Hoover. 
In 2015, Colleen Hoover and her family also started the Bookworm Box, according to Colleenhoover.com. The Bookworm Box is a charity subscription service and bookstore that gives readers the opportunity to receive books signed by the author each month. The profits and donations earned by these Bookworm Boxes are given to various charities. So far, Bookworm Boxes have raised one million dollars since 2015. 
The students of AHS recently have been in love with Verity, It Ends With Us, Ugly Love, and Reminders of Him. Tenth-grade English teacher Randall Simpson has seen a number of students reading and enjoying Colleen Hoover's "hugely popular" books. Simpson loves that he sees a large number of students "excited and enthusiastic about reading." He is intrigued to read It Ends With Us because his students have enjoyed it so much. 
If reading is not your thing but is something you want to try, some suggest starting by reading Colleen Hoover's books. "I recommend her books to all my friends," said junior Alyssa Neal. Colleen Hoover has many choices of books for the young adult romance fiction genre. Described as "heartbreaking love stories with gripping twists" by DeArment, Hoover's books could be the perfect thing to help you get into reading.