Terrence Lee Talley's Upcoming Appearance at AHS
The assembly will be held on Thursday.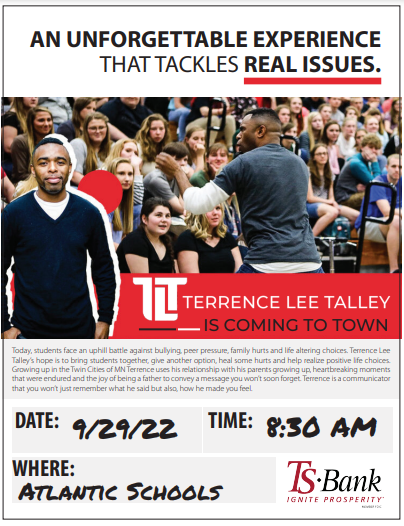 As Homecoming at AHS wraps up and comes to a bittersweet end, the student body is given the privilege of listening to Terrence Lee Talley at the school assembly on Sept. 29, 2022. Talley is most known for his popular book Secrets Anonymous, a book that speaks out about mental health amongst students as well as addictions to drugs and alcohol using real-life stories. Secrets Anonymous is Talley's personal experience with feeling as if he "wasn't enough" or he "was not loved" to try and connect and give hope to teens who may be battling the same thing or know someone who is. The book also features messages and letters written by students across the U.S. who all heard Talley speak at their school.
Traveling across the country and speaking to over 150,000 adults and students in only one year, Talley's mission in his own words on his website is to "give students messages of hope and empower them to give hope to others." Many schools have scheduled Talley when they feel as if they are having issues getting through to their students, as well as hoping to find a meaningful and enjoyable assembly. Principal Heather McKay says she aims to "connect with students and provide a positive experience, and maybe change some behavior issues." She said her biggest "hope" is for all students and staff to benefit from Talley's message, and that some students benefit more from an outside source rather than staff members. "I have a lot of concerns for mental health, that in my principalship has been the biggest change," said McKay. "There are so many different things that affect students and young people today that I didn't have to deal with and your parents didn't have to deal with," she said. 
Students should expect to hear from Telly to be "personable and real as well as entertaining and deliver a message." The main focus of his speech is mental health.